We had a great day of lift-served skiing at Bolton Valley yesterday thanks to almost two feet of new snow from Winter Storm "Pax", but today looked to be colder and windier, so some backcountry touring seemed like a good fit. It was such a gorgeous midwinter day today in the valley, with lots of sunshine, and highs around 20 F. The boys were more interested in sledding than skiing, but at least they were getting out enjoying the day. E stayed home with them and ended up doing some snowshoeing, but I headed up to the mountain for a tour. There had actually been a few more inches of fluff overnight in association with upslope flow from Winter Storm "Quintus", so that new snow simply topped off what came from the larger storm.
"The settled powder was 25" deep up at Bryant Cabin, and assessments throughout the day revealed that to be pretty consistent at most of the elevations I visited."
Since I was solo, I decided on an interesting tour that would hit some common spots as well as some new areas that would let me check out some additional glades. I began with a standard skin up to Bryant Cabin via the Bryant Trail, which went quite quickly without any real stops. I actually had my pass checked by one of the resort employees out on the trail, so the resort is keeping up on that. The settled powder was 25" deep up at Bryant Cabin, and assessments throughout the day revealed that to be pretty consistent at most of the elevations I visited.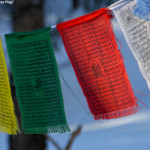 From Bryant Cabin I headed out on Gardiner's Lane and descended via JJ's. There had been some skier traffic in the area, but there were various lines with fresh snow, and everything was simply bottomless and soft. I cut across to Possum, merged onto Cliff Hanger, and then skinned up to reach the top of Prayer Flag. Although I've explored that area before, I didn't really know the name of the run until I saw it on the new Bolton Valley Backcountry Map. There was only one track on Prayer Flag, and it seemed to be an ascent track. The turns were good, and it was trench city with respect to the track I left. It was actually a bit much in the way of new snow for shallower grades, but for the steeper pitches it was excellent.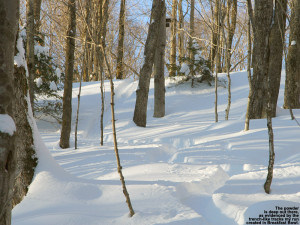 From the bottom of Prayer Flag I headed out toward "Breakfast Bowl", a glade I've never skied before, and noted that the tracks looked really good coming down out of Holden's Hollow. I found Breakfast Bowl totally untracked, and those were some of the best turns of the day – there is plenty of pitch there for whatever amount of powder you've got. At the bottom of Breakfast Bowl, instead of heading back up toward Broadway, I decided to cut across Joiner Brook, head up to the plateau on the other side, and take the Valley Loop Nordic trail back to the car. On my way up out of the streambed, I really got a feel for the instability of the snowpack. With the upside down snowpack having dense snow on top of lighter, drier stuff, "whumphing" sounds were being made with every step. It felt like a snowpack that would be ready to rip in appropriate terrain, and no sooner had I been thinking about it, than a room-sized slab shifted under me on a fairly steep slope. It only moved a couple of inches since it was stabilized by some trees, but it sure let me know that the snowpack meant business. Finishing my tour on Valley Loop was somewhat slow on my fat skis, but it was relaxing, and I cut a few corners to speed up the process on the very winding trail.