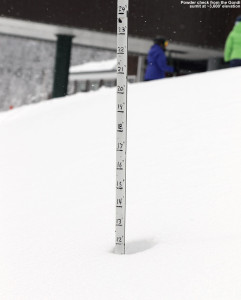 Over the past three weeks we've had a couple of March snowstorms that produced some moderate powder days, and another April one ahead of our most resent storm cycle, but there wasn't anything that fell on the weekend or was quite big enough to get me out for early morning turns.  That's just sort of the way it's been this season, but yesterday evening the Northern Greens did a bit of their more typical convening with Mother Nature and snow began to dump along the spine as moisture smacked into the mountains on a westerly flow.  We had some decent bouts of snowfall here at the house, and being a Friday night, it was definitely enough to get me thinking about a trip to Stowe.  By morning, totals for the full storm cycle were hitting 12 to 18 inches at the northern resorts, so after catching up on a few things at the house, I headed off for some turns around mid-morning.
"Indeed Mansfield had done its usual business, and a quick probe in untouched snow outside the Cliff House as I put on my skis revealed a nice foot of midwinter powder."
Temperatures were still at or below the freezing mark at all elevations, but the new snow was already starting to melt off in the valleys thanks to the strong April sun.  The mountains were holding their own with respect to the snow however, and I headed right to the Midway Lot and up the Gondola to see what Mansfield had delivered below The Chin.  Indeed Mansfield had done its usual business, and a quick probe in untouched snow outside the Cliff House as I put on my skis revealed a nice foot of midwinter powder.  I took a first run down Gondolier, and encountered some simply amazing snow along the edges of the trail.  The powder petered out to just a few inches in depth by the time I was back down to the Gondola base, but there had been a pretty solid resurfacing on the upper half of the mountain, and it was only the lowest ¼ of terrain that left much to be desired in terms of hitting the old base.
I wasn't yet sure what I was going to explore with respect to off piste adventures, but back in the Gondola I rode up with a couple that had been in the Nosedive Glades, and another gentleman who had just visited the Kitchen Wall, and it all sounded quite good.  Based on the accumulations I'd seen, I didn't have to second guess any of it and headed right off to the Nosedive Glades from the north.  As I headed along the Glades Traverse the realization hit me that we were indeed dealing with April-style visitation numbers at the resort – there was just untracked entry after untracked entry into the glades.  Eventually I just had to choose one and I dropped in.  The powder was great, with just a little hint of getting thick due to temperatures and sun, with the effect increasing a bit as you lost elevation.  I knew that higher would be even better, so I visited the Kitchen Wall area next, and found a solid 10 to 14 inches everywhere I checked.
I went with my Telemark skis today because I wanted to really blast my legs after not skiing for a stretch, and my only regret would be that I was just burning too quickly each run after being off the boards for too long.  I'd have to stop and rest them often, but I can't say it was really all that bad just hanging out in the warm spring sun.  A few runs on that Mansfield vertical serviced by high-speed lifts was enough to totally cook my legs, but at least my body got the workout it needed.  Hopefully we won't have to deal with such a period of generally horrible conditions as we've seen the past few weeks for quite a while – I can already tell that I'm going to pay for today's workout and it's only been a few hours since I finished!