Yesterday the Northeast was affected by Winter Storm Riley, a whopper of a system with wind gusts reaching 93 MPH in Barnstable on Cape Cod. On the winter side of the storm, the Catskills were the epicenter for big snowfall, with accumulations reaching 40 inches. Here in Vermont, the snow totals weren't quite as outrageous, but the southern resorts still pulled in over a foot of accumulation. Bolton Valley was reporting 4 inches of new snow from the storm, which seemed like just enough to temp me out for a tour in the new powder.
"I didn't have first tracks, but I did catch second tracks, and they were generally bottomless thanks to the dense snow and 115 mm fat skis."
I headed up to the Village in the mid-morning timeframe with temperatures in the upper 20s F and mostly cloudy skies. The parking lots were already getting quite full, but there were still a number of parking spots right along Broadway, and I was able to grab one of those. I actually saw a few folks riding fat bikes on some of the lower Nordic Trails, and it looked like a perfect day to be out on those. Actually, with the fresh snow, comfortable temperature, and peeks of sun, it was just a gorgeous day to be out on anything – I saw all manner of folks on the trails varying from the bikers, to snowshoers, to Nordic skiers, to backcountry skiers.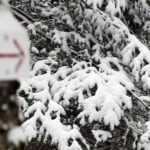 With only a few inches of new snow, I was looking for some low-angle glades for today's tour, and I decided to venture across to the west side of the valley for a change. I kicked things off with a run on Prayer Flag, augmented by ascending a bit farther up the west wall of the valley above the flags to get some extra vertical. I didn't have first tracks, but I did catch second tracks, and they were generally bottomless thanks to the dense snow and 115 mm fat skis. Only when I had to cut hard to stop or adjust for a major obstacle would I get down to the subsurface. Lower angle was clearly the way to go today though, because down on Brook Run I could see that steeper terrain like the Holden's Hollow Glades will definitely need another storm before they'll be back in top form.
Down at the pump house on Broadway, I reskinned my skis and headed back up World Cup to Bryant. I skied the first half of Cup Runneth Over to start my next run, skipping the steeper bottom half because the new snow just wasn't sufficient for that pitch. Cup Runneth Over had seen a couple of skiers, but there was ample fresh snow remaining and the turns were generally very nice. I finished out with some of the usual glades in the World Cup area, and even caught part of the Telemark Practice Slope, which had actually seen minimal traffic.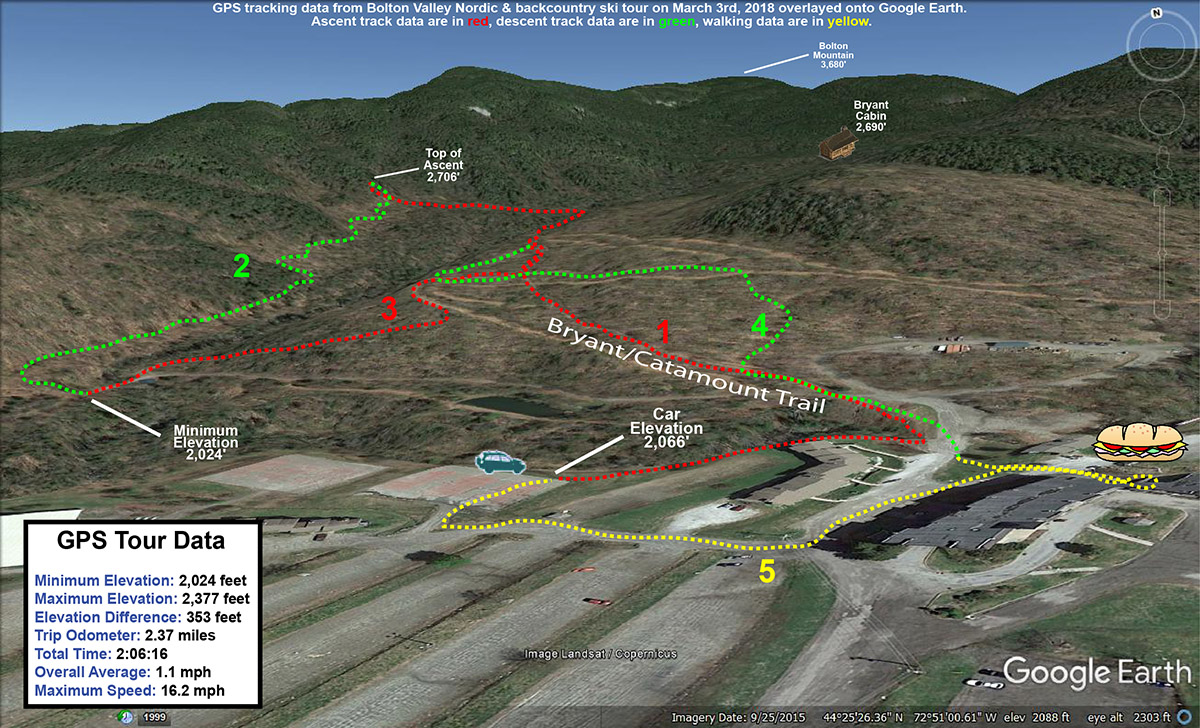 The classic end to the tour was of course a visit to the Village Deli to grab some subs with that fantastic new bread they've got. I didn't see Gus today, but the Deli was really hummin' with just about every table filled. It sounds like we might have another storm affecting the area this coming week, so we'll certainly be watching that potential over the next few days.