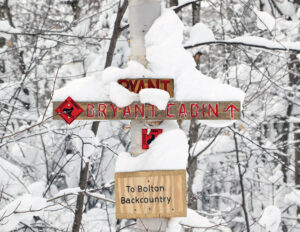 The consistent snows and temperatures we've had over the past several days had me pretty certain that the snow quality was there for lift-served skiing today, but the arctic hounds coming in on those northwest winds led me to go touring instead. When I saw projected highs in the single digits F for Bolton Valley today, there was no way I wanted to sit still on the lifts in the wind vs. generating my own heat down in the protection of the forest.
I got up to the Village around midday, and temperatures were indeed in the mid-single digits F as the forecast had suggested. Between all the backcountry touring and Nordic folks that I saw, there were plenty of people out on the lower trails, but farther out into the higher trails by the Bryant Cabin, I saw probably a handful of groups. Overall, you could tell by the vibe that people felt it was great weather for these types of activities.
The additional 4 inches of fresh champagne that the resort had just picked up really served to top off the already crazy levels of fluff that covered everything. I saw some great images of the recent snows as soon as I arrived in the Village, so before gearing up for my tour, I took a quick walk around the Village and grabbed some scenic shots. Once I started my tour and got into the forest, the amount of snow on all surfaces was just amazing – it was caked so heavily on the trees that you were surrounded by it on all sides. Starting up the Bryant Trail was like walking into some sort of white cathedral.
I made depth measurements of the snowpack during my tour, and I found generally 26-27" around the 2,000' level, and many spots that are getting dangerously close to 40" up near 3,000'. That's pretty consistent with what the Mt. Mansfield Stake is showing. The powder skiing was great, although we could still use another storm or two just to push the snowpack depth past that 40" benchmark.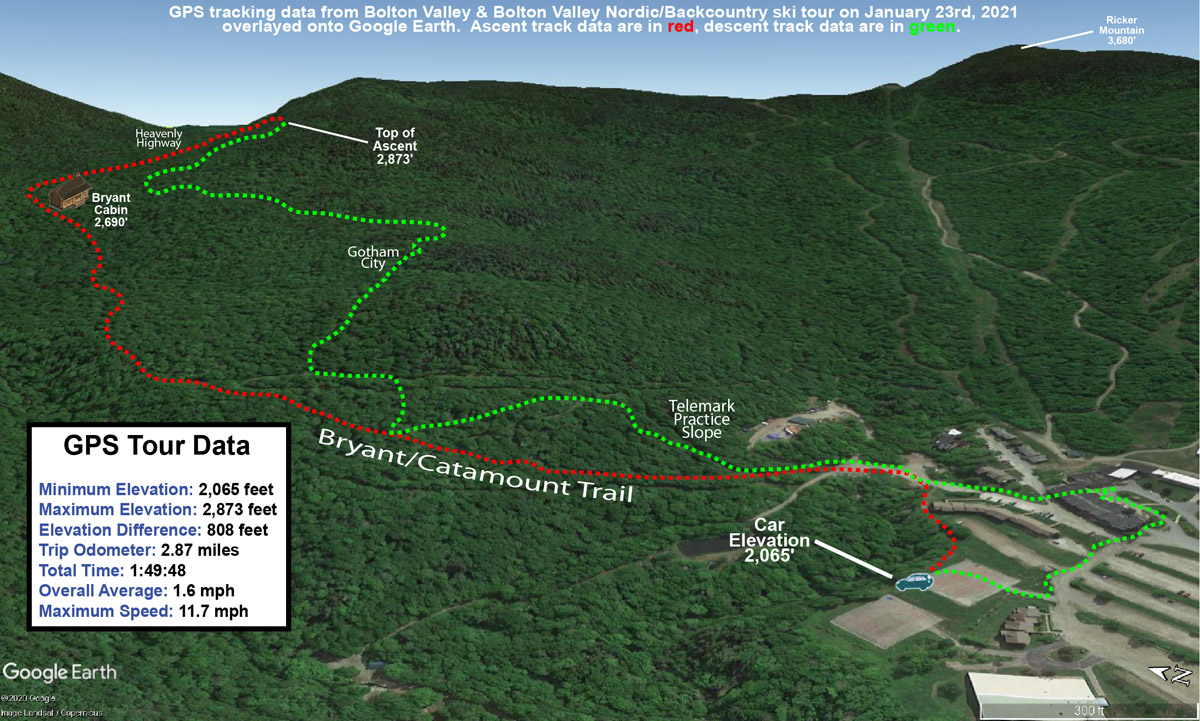 At the start of my tour off Heavenly Highway I was on some steep, 30+-degree slopes, and I was setting off sloughs that definitely spoke to the relative snowpack instability from the continuous day after day after day of snows without consolidation. I was perfectly safe where I was the very dense forest, but I immediately though about how I wouldn't want to be exposed in spots like the ravines of the Presidentials. So I guess it wasn't entirely surprising when I discovered posts in the American Weather New England Skiing Thread about slides in Tuckerman.