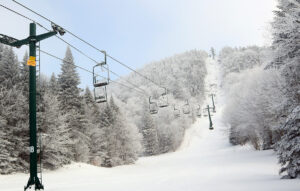 I hadn't been up to the mountain since that fantastic period of skiing from mid-December through the holidays; no major winter storms had come through the area since Winter Storm Elliot, and the skiing just hadn't seemed good enough to pull me away from other things. That changed with this most recent storm though – Bolton's snow report from this morning indicated that they'd picked up half foot of new snow in the past couple of days. Although the storm did contain mixed precipitation, it delivered 1.33" of liquid equivalent down here at our site in the valley, with most of that as snow/frozen. Assuming the local mountains exceeded that as they usually do, that's a storm cycle that has all the makings of a solid resurfacing/base building event.
"…I gave the typical on piste conditions a rating of 2 on a 0 to 10 scale, but I have pretty high snow quality standards…"
With this latest storm, Bolton Valley indicated that the Wilderness Uphill Route was officially open again, which is a good sign that there had been a substantial addition to the snowpack. My observations from today while I was out touring definitely reinforced that notion. With the effects of this most recent storm, the base snow is actually so dense that I couldn't do any depth checks, but I'd say you're looking at probably a foot of base depth at the 2,000' level. If the snow density is that same as what I've cored down here at our site in the valley, that would have about 2 inches of liquid equivalent in it. Since the snowpack is just too dense to do any easy depth readings, I don't have an estimate for the increases of snowpack depth with elevation. The Mt. Mansfield Stake up at 3,700' is indicating a snowpack depth of 20 inches as of today though, so I'd assume you're looking at something in that range once you're up at the local summit elevations above 3,000'.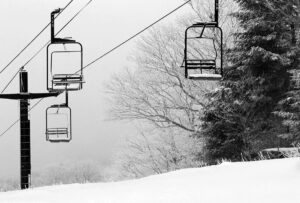 In terms of the skiing, I wasn't really expecting much real powder with how dense the snowfall was from this past storm; my tour was really a chance to get out for some exercise and see how the off piste snowpack and snow surfaces were looking. I only found about an inch or so of lighter snow above the base, and that was pretty consistent at all elevations in the 2,000' to 3,000' range. Snow coverage of the natural terrain is actually quite good though with that impressively dense base, and Lower Turnpike with a good amount of skier-packed areas has great wall-to-wall coverage. Steeper terrain with ledges, obstacles, and wind scouring/drifting is not as consistent in its coverage, but the base snow is just so dense that most of the natural terrain is going to be good to go with the next decent storm. The best snow quality I found was actually in natural snow areas that had been skier packed, since areas of undisturbed/unpacked snow still held the potential to punch through the uppermost layers of the base. On my descent I definitely employed a mix of alpine and Telemark turns, and the safety of alpine turns with that full width of surface area for both skis in the center was the way to go when navigating snow that hadn't been packed by skiers.
I stuck around for some lift-served skiing since I'd seen that Alta Vista had been opened, and I think it had seen some of the more recent snowmaking, because it had some of the best conditions I found. The best snow by far was what people had pushed to the side, but the main surface was better than elsewhere. Most of the on piste surfaces were typical of what you'd expect for manmade snow that had seen lift-served skier traffic, so really nothing to note in terms of quality. When I got home and Dylan asked me about the conditions, I gave the typical on piste conditions a rating of 2 on a 0 to 10 scale, but I have pretty high snow quality standards, so he knows where a value of 2 would stand. Even without any big storms over the past couple of weeks, the resort has been expanding their terrain with runs like Spillway, and they were blowing snow on Hard Luck as well. The recent snow was substantial enough that even some natural snow terrain had been opened. Surprisingly, they don't have to lower areas of Wilderness open yet to lift-served access, which is pretty typical under these conditions, but they would need to groom it first, so that may take some extra time.
Even if the snow quality isn't there yet in terms of typical Northern Greens surfaces, it was definitely nice to get back on the slopes after the break. We had light snow falling during the morning with some blue skies, and some nice snow/rime on the trees. With that base in place, terrain is likely to expand heavily if these next couple of potential systems in the coming week deliver any substantial snow.