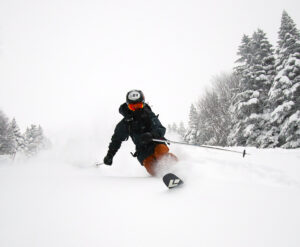 Since Winter Storm Diaz dropped another good shot of snow overnight, our plan yesterday was to head up to Bolton for more lift-served skiing. Making a final check on the snow report before heading up though, I discovered that the resort had lost power like a lot of other spots around the area. With that news, and the announcement that the Wilderness Uphill Route was open, we switched our plans over to ski touring at Wilderness. When we got to the resort, power was back on and the lifts were running, but since we'd already taken the time to gear up for it, we stuck with the ski touring plan since it held the potential for a lot more untracked snow anyway.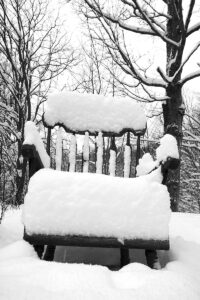 With the existing base snow from ahead of the storm not entirely consolidated, it was tough to get a sense for how much new snow the resort had picked up specifically from this cycle. But, we were able to get total snowpack depths, and with repeated measurements by both Ty and me, we came in with total settled depths of 16" at 2,000' and 20" around 3,000' The resort updated their storm accumulations and reported 12" new at 2,000' and 16" new at 3,000', so that fit perfectly with what our measurements were suggesting.
The skin track Wilderness Uphill Route was nicely set from previous traffic, and there were actually two tracks that let us skin side-by-side for easier conversation. Traffic on Lower Turnpike had been moderate, and we counted about 20 descent tracks. I wasn't sure if we were going to go all the way to the Wilderness Summit depending on how scoured the upper elevations were, but with a lot of the flow with this event coming from the east, there was essentially zero drifting even at the highest elevations, so that set up some potentially great skiing on the upper slopes.
The snow from this storm cycle certain fell right-side-up, and there was a lot of substance to the lower layers, but it skied DEEP. We quickly discovered that even on 115 mm fat skis, low and moderate angle pitches just didn't cut it. You had to hit black diamond pitches or higher, and once you did, the powder skiing really rocked. We hit the steepest pitches we could find, like the upper slopes of Peggy Dow's and the Cougar Headwall, and even when we tried to test the limits of the snowpack by attempting to get down to the ground on turns, you just couldn't. We picked up about 1.30" of liquid equivalent from this storm down at our site in the valley, so the mountain must have had at least 1.50" of liquid atop the previous base. I'm not quite sure how this storm brought the slopes to an almost midwinter feel in terms of substance and coverage, but the combination of liquid equivalent, right-side-up snow, and whatever existing base there was, just hit the sweet spot to make that happen.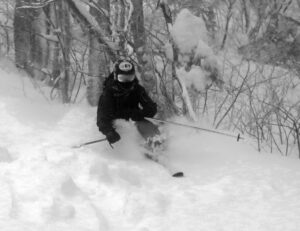 When we were about halfway through our first descent and only had moderate and lower angle terrain below us, I suggested we stop the descent there and hit the Wilderness Summit again to try Bolton Outlaw for our next descent. Bolton Outlaw is quite steep with a lot of obstacles, and it often gets scoured and/or skied enough to make coverage an issue, but from what we'd seen of it, and what we'd experience with the skiing up to that point, it seemed like it might be just the ticket. And it was – it had just the pitch we needed, and coverage was too good to be true. Each time I'd come over a rise and over a ledge I'd expect to hear a rock, or a log, or something under my skis… but that just didn't happen. We're of course talking touring levels of skier traffic here, but whether you were skiing packed or untracked snow, you just didn't break through to whatever was below. It's still hard to figure out how the coverage got so good without a real consolidated base below, but I'd put it right up there with some of the best runs we've had on Bolton Outlaw during any part of the season.