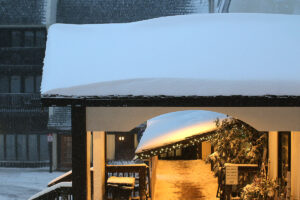 I decided to wait until the afternoon to head up to Bolton today, figuring I'd let the snow depths continue to build up through the morning thanks to Winter Storm Diaz, but Dylan and his friends hit the mountain around opening time. They stayed until midday, and said that they enjoyed some nice soft conditions. When we asked which way to lean in terms of ski width, the word was to go on the wider side.
Ty and I headed up toward midafternoon, and temperatures were right around freezing down in the valley with the snow accumulations on the dense side, but temperatures dropped right down into the 20s F in the Bolton Valley Village. The Bolton Valley Access Road was just wet in the lower elevations, with easy driving up to about 1,500', and above that point it was snow covered.
With only so much terrain open, the main center portions of the runs had a bit of the new snow, but there was enough traffic that you were generally skiing on the base snow. The sides and lower traffic areas of the trails held plenty of soft snow though – places where the snow had either been untouched or pushed there by skiers would definitely get you off the subsurface. The snow was of course much drier than what we were getting down in the valley. We were quickly reminded it was a storm day in mid-December when the night skiing lights started coming on not too far after 3:00 P.M., and it was getting dark enough that it was nice to have the lighting assist at that point.
I didn't really make any attempts at officially measuring the new snow, but Ty and I both estimated the accumulations at the mountain as of this afternoon were somewhere in the 6-12" range. I'm surprised to see the mountain coming in with a report of 4-6" new, since we'd already had 6 to 7" down at the house by this afternoon, so I'd say that's a conservative snow report based on what we encountered. While we were up there the snowfall rate was close to an inch per hour based on what we found on our car, but nothing outrageous in terms of what the mountains can get for snowfall intensity. The snowfall was definitely more intense up there than down the valley at our place, as the afternoon period had lighter snowfall than the morning.