It's been a couple of weeks since those powder days back in October, and there hadn't been much in the way of new snow, but over the past few days, early winter weather has returned and been the rule.  A fairly small Alberta Clipper system came through the area over the weekend, and in typical Northern Greens style, Mt. Mansfield was able to turn it into a decent shot of early season white.  As of yesterday, reports of 12-18" of new snow were already coming in, and it didn't take long for photos of the powder to appear from Powderfreak.  We soon saw pictures from the FIS crew and even from the National Weather Service, as one of their meteorologists got out to enjoy his forecast.  The initial reports indicated that the snow had been reasonably dense, setting up a substantial covering of the slopes, and with another round of even colder, drier powder anticipated overnight with a frontal passage, it looked like Tuesday held the potential for some sweet, early season turns.
"If someone had asked
me about ski choice for
today, I would have just
said to take your fattest
skis, whether they're
brand new or not."
The front came through overnight as expected, dropping about an inch of snow down at our house, and more in the higher elevations.  Things seemed to have come together, so I decided to head out to Stowe for an early ski tour.  Temperatures were generally in the mid 20s F as I traveled through the mountain valleys, and there were no issues with the roads until I started climbing up toward the mountain around 1,000'.  Above that elevation I found enough packed ice and snow that it warranted a bit more cautious driving.  At the Midway Parking Lot (1,600'), the temperature was 20 F and there was light snow falling.  There was the usual crowd of early morning skiers heading out and returning from the slopes, and I suspected it would be easy to find a nicely established skin track on any of the typical routes.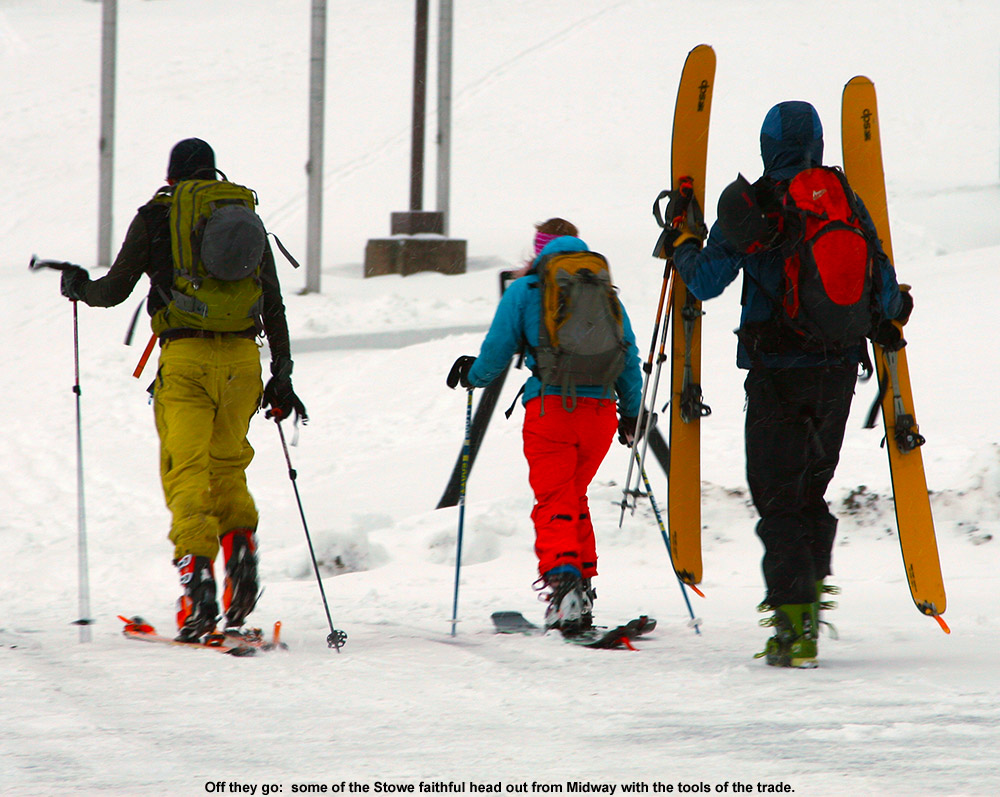 Since our last outings a couple of weeks ago focused on the Gondola side of Mansfield, I decided to mix it up this time and took the well established skin track that headed up Nosedive.  It was well packed, and made all the sweeter by the fact that for much of the ascent there was a parallel boot pack available for anyone hiking without skins.  The snowpack increased very quickly with elevation on the bottom half of the mountain, and I found the following depths during my ascent:
1,600': 4-6"
2,000': 8-10"
2,500'+: 12-18"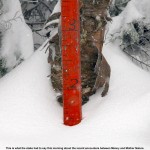 Above ~2,500', I was essentially well into the deep stuff, and the gains in snow depth weren't huge beyond that.  Of course, when you're already talking 12-18" of snow with plenty of substance to it, the lack of additional increases isn't a big deal.  At the top of Nosedive, I continued my ascent up the Toll Road for a few more minutes to check in on the depth of the snowpack at the fabled Mt. Mansfield Stake.  At ~3,700', the stake showed at least 17" of snow, and I generally found 18-19" there when I probed on the edge of the Toll Road itself, so indeed the snow depth up there was right around a foot and a half.
It's really a nice sheltered area up along the road by the stake, and since the snow wasn't perturbed by wind, you could definitely get a sense for where the snow stood with respect to quality.  Indeed that quality was looking very good.  As one would expect with the latest round of fluff, the snowpack was right side up with the lightest snow on top, and it was primed and ready for some turns.  Big, dendritic flakes were falling while I was there switching over for the descent, and I stood and savored the moment for a while before pushing off down the road.  I crossed over toward the Fourrunner Quad, and the summit area was awash in manmade snow.  I didn't even see that many guns going up there – I think the resort has already been able to hammer that area with manmade snow with the cold temperatures we've had.
So now I'm left with just one more thing to discuss, the pièce de résistance for the day… the descent.  While ascending Nosedive, it was clear that there had been a huge bolus of snow dropped above 2,500', so coverage wasn't going to be an issue.  Temperatures were certainly not in question either, since it must have been somewhere in the teens F.  That left the aspects of snow density and the effects of the wind, and based on the turns I was seeing by people descending Nosedive, it looked like the skiing was going to be fine, even if not sublime.  But, I suspected I could do better.  There had definitely been some wind on Nosedive that appeared to have packed out the snow a bit.  With that in mind, I decided to roll the dice and check out another descent route – Hayride.  I'd had good luck on Hayride back on April 10th of last year, when Mt. Mansfield got laced with over two feet of dense, resurfacing snow.  It was actually the challenge of that snow on Telemark gear that was one of the final nails in the coffin in convincing me to finally get some fat, rockered skis for Telemark use.  I could already tell that today's snow conditions were nothing like what I encountered on that April outing – with the new fluff, this snow was notably drier.  I hadn't actually thought that it would be anywhere near the quality of what we had last November on the 30th, but after a few turns on Hayride I found that it was certainly in the same league.  And indeed we're talking quite the league – Hayride was sheltered from the wind, so turn after turn after turn I was able to push hard on the deep snow.  It gave way, let you sink in, but pushed back with just enough force to keep you from getting to the ground.  With 115 mm underfoot and judicious line choice, I think I touched down twice on something other than snow on the entire descent.  Just like last November, the AMPerages were totally in their element, letting me play around in the deep snow on a remarkably stable platform.  They helped out immensely with fore-aft balance, and I can recall some specific instances where I was saved from what easily could have been a face plant.  If someone had asked me about ski choice for today, I would have just said to take your fattest skis, whether they're brand new or not.  Today, a combination of fat skis with the available snow would be plenty to keep you safely above most underlying obstacles.  You'd probably end up having a heck of a lot of fun as well.