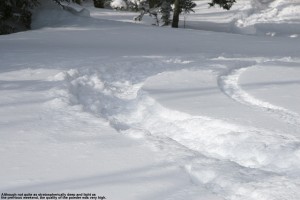 After a great powdery outing with Dave up on Bolton's Nordic/backcountry network on MLK Monday, our next snow event began the following day.  It was one of those low pressure systems in the Great Lakes that redevelops as a coastal, and as has been the trend this season, Northern New England was outside of the areas of heaviest precipitation.  However, we did manage to get some snow out of the event.  While there was no snow falling in Waterbury at the house when I left in the morning on Tuesday, a couple of hours later it had started up in Burlington.  When I got home that evening I found 4.2 inches of new snow on the snowboard, and it turned out to be some reasonably dense, base-building material.
In the valley we wound up with 6.5 inches of snow comprised of 0.63 inches of liquid with that event, and then a similar system came in for yesterday.  We were even farther out of that one though, and would up with just 1.6 inches of total snow at the house.  As expected, the mountains did somewhat better, and Bolton had picked up over a foot of snow for the week.
The big weather event for this weekend isn't snow however, it's the cold.  Highs are expected to be around 10 F today, and then perhaps not even get above zero tomorrow.  E and the boys decided not to ski based on the cold forecast, but today's temperatures seemed like they would be pretty nice for a backcountry tour.  I waited until about midday for the temperatures to warm, and warm they had!  Driving toward Bolton, the temperature was almost 20 F in the valley, and it seemed quite a bit warmer than initially thought.  Even up in the village above 2,000', the temperature was already 10 F and rising.
Kicking off my tour, I headed up Bryant as usual, and was treated to blue skies and lots of white trees.  I could feel that the temperature was cooling down as I gained elevation, but I still had my hat off at times to keep cool.  Once I reached the Bryant Cabin I assessed some tour options.  Ty was having some friends over for a birthday party starting at 4:00 P.M., and I still had to do some grocery shopping on my trip home, but it looked like I had time for a longer tour that just a Bryant lap.  I decided to head out north for a bit along the Bolton-Trapp/Catamount Trail and catch some turns off there.
The trip through the flats to the North of the cabin was fairly quiet, with more white trees and lots of deep snow visible on the steep slopes to the east.  I saw one other skier in the flats on what looked like lighter touring gear, and then I saw another pair of skiers at the top of the drop in for the Cotton Brook trail.  I kept going and assessed some glade options on the high side of the trail.  There were a few tracks, but plenty of lines that hadn't been visited, and the powder looked fantastic both above and below.  To read about the descent and see all the pictures from the day, head to the full report from the Bolton Valley Nordic & Backcountry Network today.