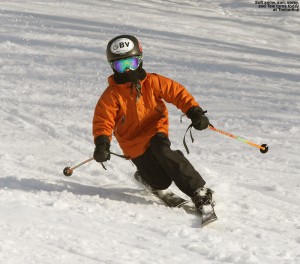 Repairs on the Timberline Quad at Bolton Valley are complete, and although I heard that it actually started running yesterday, today was our first chance to check out the Timberline area and make some turns.  Forecast temperatures in the 40s F are more like March or April than January this weekend, and with no need to head out early for powder, we opted for a warm, afternoon session.  When we headed up to the mountain around 1:30 P.M. or so, temperatures both at the house (495') and up at the Timberline Base (1,500') were in the low 40s F, and although I thought we'd have generally cloudy conditions, it was actually mostly sunny.  It's great to have Timberline and that Timberline vibe back though, we pulled in and found probably a couple dozen cars present, and I was able to drop off E and the boys and park right below the lodge.  With the sun shining and mild temperatures, it was easy to think it was one of those spring Timberline outings.
The Timberline trails were looking really sweet in the sunshine, and you could see that areas that hadn't been groomed hadn't even been tracked out.  There were a couple of spots here and there where snow coverage was low, but they were pretty minor (aside from where a snow cat seemed to dig some holes on Showtime).  I think the resort has got to be pretty happy that even the low elevation areas of Timberline are looking good with mostly natural snow.  I know some snow was blown on parts of Timberline Run, but I'm sure that money has been saved on snowmaking for some runs like Showtime.  I guess they could make snow in some areas going forward if they want to beef up the base for the spring.  In the snow report they mentioned that there were a couple of trails closed for various reasons, but with Timberline in operation, the mountain is running at just shy of 100% open.
As they've often done in the spring, the boys went with their Telemark skis today to get in some practice, and the soft conditions were perfect for working on their turns.  We did a couple laps on the Villager/Timberline Run route, with Sure Shot thrown in as well.  Both boys went without the cables on their bindings, and while it worked well for Ty, perhaps because his new Telemark boots are stiff and supportive enough, it seemed a little sloppy for Dylan.  I think his boots are worn in enough that he might need that extra tension from the cables.  We ran into Luke and Claire and we were able get in some fun turns with them – Claire was definitely enjoying the ease of the Timberline logistics today as well.  Everyone made plenty of soft carves in the snow today, and it looks like we'll continue with these conditions tomorrow until things start to cool down at some point Monday.  After that we'll be looking for new snow to hopefully get back to powder conditions; it's going to be fun to get back into some powder with Timberline in operation.