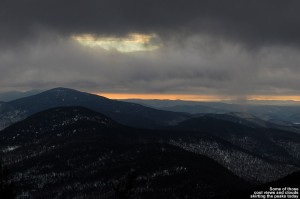 With a generally cloudy forecast, I wasn't sure if today's skiing at Stowe was going to match up to the quality we experienced yesterday at Bolton, but boy did Mt. Mansfield deliver.  Temperatures did get down to the freezing point overnight, but the morning clouds in the valley were an undercast that meant sunny skies in the mountains.  Any snow that might have cooled down and tightened up was certainly soft by the time we arrived around midday.  There was some exciting weather out there as well.  Higher clouds had built in from the south, and screaming winds in the higher elevations of the atmosphere had them cruising along at impressive speeds not to far above the summits.  Temperatures were schizophrenic too, with hot and cold pockets all over the place.  On my first run of the day on the Sunny Spruce Quad, after we'd risen about 1,000' vertical or so, we suddenly got to a warm layer of the atmosphere – the temperature felt like it changed 10 F instantaneously.
"You could attack anything,
as steep as you wanted, and
that snow would just peel
away beautifully and let
you hold those turns."
We kicked off the day on Spruce Peak, and Luke had a little trouble with the RFID on his season's pass that required the lift operator to call in some technical help.  That gave us time to meet up with Claire though, once she'd taken care of her duties and gotten the program coordinators their passes.  Conditions on Spruce Peak were generally nice, but there were certainly some bare spots opening up on natural snow terrain since it's generally south-facing.  Everything was soft, with the best surfaces being those that had seen various combinations grooming, skier traffic, or manmade snow.  Natural snow terrain that hadn't seen any packing was skiable, but typically mushy or sticky.  I found turns down West Slope this afternoon particularly invigorating, as you could lay your skis over as far as you wanted on that steep pitch and have that snow just peel away as you carved it up.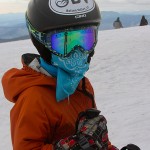 After a few runs on Spruce, we took a quick pit stop at Spruce Camp where Claire and Luke gabbed some bagels that they hadn't had a chance to eat earlier, folks got drinks if they needed them, and then we shifted over to Mt. Mansfield.  With back to back gondola rides to get up to the Cliff House, there was plenty of time to take in snacks, but since not everyone had food, we decided that we'd also go for some food at the Octagon.  From the top of the Gondola we headed down toward the Fourrunner Quad via Cliff Trail, and with all natural snow, there were some sticky spots, especially where traffic was lowest.  You could really feel the difference in the snow surfaces when we arrived at Nosedive though, since it has a good amount of manmade snow and sees a lot more traffic; there were no issues with sticky snow there.  At the Octagon we got some food, hung out for while, and everyone had a good recharge.  As it turned out, we were all going to need that recharge, because we were going to work ourselves hard for the rest of the afternoon.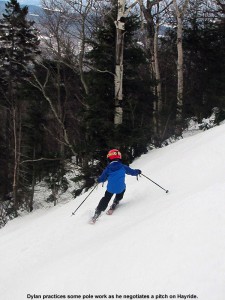 Luke had originally requested a trip to Nosedive Bypass, since it's one of the mountain's areas that he'd yet to ski, but we were unsure of how much traffic it had seen, and how easy the skiing would be.  Instead, Claire and I decided that it would be a perfect time for the boys to work on their bump skiing.  The snow was just so good on that type of terrain that we didn't want to pass up the chance, so we headed to the top of Hayride and Centerline.  We could see that both were loaded with tons of soft, fantastic looking bump lines, so it was a difficult decision, but we ultimately went with Hayride.  It turned out to be a good choice because there were also those extra steep pitches that let the boys work on steep skiing technique.  The bumps were excellent, and the snow quality was fantastic even on the steepest pitches.  You could attack anything, as steep as you wanted, and that snow would just peel away beautifully and let you hold those turns.
Although the boys were all ripping up the terrain, and it was hard to nitpick on instruction, I could see that they needed some pole work.  The combination of bumps and steeps was perfect ground for demonstrating how proper pole technique can really bring you to that next level of skiing in that terrain.  Reaching for those pole plants on steep terrain can really keep that upper body facing downhill, so we kept pushing that upper/lower body disconnect because I could see that some of the boys couldn't manage turns in the tighter lines like they'd want to.  It's really difficult to make rapid transitions back and forth and perform those especially tight turns if you upper body is constantly turning out of the fall line.  I'd say Ty has got that down the smoothest of all the boys, and for some reason it's just something he picked up when he was very young, but as a group I think it's a process that will really reap rewards for the boys this season.  They've all definitely reached a level of skiing where they can handle whatever terrain you throw at them, and it's time to work on the finer points of body positioning.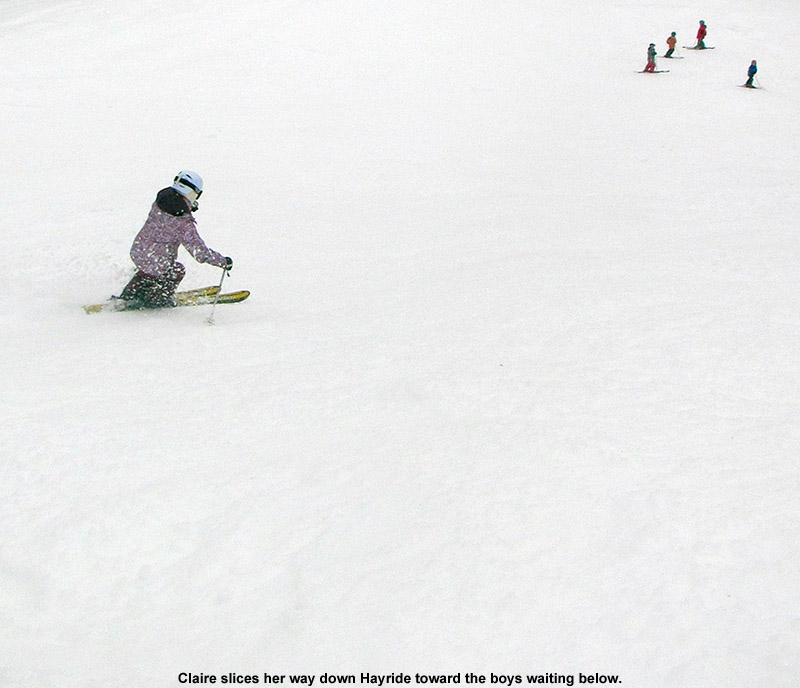 After a couple of trips on Hayride, we finally mixed it up and visited Centerline, which of course yielded more fantastic bump lines.  That let us head south to pick up the rail park, since Dylan was really looking to get into some park terrain.  They had some long rails and boxes in there, and the funniest moment by far was when Dylan was skiing along a double box, and near the end of the second one, which was probably a couple feet wide, he ended up with a ski on the ground on each side.  He continued to ride it, in classic "crotch grind" fashion, and held on right through.  It was as impressive as it was funny, and the "crotch grind" definitely hung with us for the rest of the day.  We met up with Connor's group right at the end of the park, and we had a good collective run down Tyro.  We didn't want to do it, but the boys convinced us to drop below the Crossover back to the Gondola to catch a trip through the Half Pipe.  It was a heck of a lot of fun though, and those massive vertical walls felt bigger than ever, so it was worth the extra work to get back to the Over Easy.  We had really cooked ourselves pretty good with all those bumps, and I know that most everyone was enjoying that well earned tiredness at the end of the day.
South winds were screaming along at the top of the Fourrunner Quad at the end of the day, and we're rapidly approaching the end of the warm weather as a cold front nears the area.  Snow is expected by overnight tonight in the higher elevations, and by midday tomorrow in the valleys.  The biggest question going forward is about how much snow Mother Nature will put down by the upcoming MLK weekend.  It doesn't look like there's a big enough storm coming this week to put down a real resurfacing to support lift-served skiing, so it may be time to hit the sidecountry/backcountry.  But, there are a number of snow chances in the upcoming pattern, and you never know when the Northern Greens will pull 6 to 12 inches out of small passing systems.  I was talking with E on the ride home about how, even though we had tons of good powder skiing days in the previous couple of weeks, it's hard to think back to it when you're out there on spring snow.  It was a good break, but it will be nice to get the fat skis back out soon.