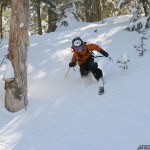 Josh has been waiting for a while to get that perfectly clear day to finish up some media work at Bolton Valley, and today it finally came.  With the anticipated forecast, he set up for a 7:30 A.M. meeting today in his office, with the plan to catch an early ride on the Vista with the ski patrol.  Along with Josh and our family today, we had Leslie from ski school with her girls Alice and Laura, Vince on video, Shem on stills, and Brad from sales as another skier.  After catching that early Vista ride, the guys shot stills and video on Alta Vista, Sherman's Pass, Sleepy Hollow, and then Fanny Hill.  They were using the early morning light well, and it seemed like they got some nice material  From there we caught another early ride, this time on the Wilderness Chair, much to the chagrin of people who kept coming by the chair thinking it had already opened.  A bunch of material was shot on Peggy Dow's with some views of the Vista trails in the background.  All the kids were really patient with the work, which even required hiking back up some of the trails to shoot scenes again and ensure that they would be plenty of good material.  We all gathered in the base lodge for some lunch to finish off the session.
"For the best powder, you
had to stay above, or at
least close to, the 3,000'
level and stick to aspects
with a fair bit of northerly
component."
E and Dylan had to leave after lunch because of a birthday party that Dylan was attending, but Ty and I hung around with the intention of getting in a backcountry tour.  With the way the temperatures were rising, I would have liked to do that tour in the morning to ensure the best powder, but the temperatures weren't too bad up at elevation.  After switching out of our alpine gear and into our Telemark gear, we caught a ride on the Wilderness Chair, and headed off the backside just like I'd done on my tour last Saturday.  I had initially contemplated skinning up to the top of Ricker Mountain and starting the tour from there, but I decided to make it a bit easier on Ty since he'd already hiked a lot during the media session.
The backcountry snow conditions were certainly variable today, with the snow on south-facing or open terrain taking on a more spring like consistency, but higher elevation, protected aspects held winter snow.  For the best powder, you had to stay above, or at least close to, the 3,000' level and stick to aspects with a fair bit of northerly component.    There was some mighty fine snow out there though.  The dry powder skied the easiest of course, but even the stuff that was getting a bit sun baked was skiing reasonably well.  Based on my observations from last Saturday, we traversed a bit more to the north before making our descent.  We caught some nice new lines, and even managed to get right back to the spot where I'd stopped my descent last time.  It had settled somewhat, but my skin track from last weekend was still there, so we made use of that until we merged into the upper areas where another main skin track took over.
To get to our front side descent, I changed up our route a bit, using Paradise Pass in the southerly direction to hook up with Heavenly Highway.  We then used Moose Glen to get us into position for the descent.  I think this option might be easier than what I did last time.  We took a break before we started out final descent, making use of the hot soup and cocoa that I was carrying.  They weren't quite as necessary in terms of the cold relative to a tour in colder weather, but they hit the spot after using all that energy to tour around.  For our front side descent we used the route that drops us down to Snow Hole, and even when the snow had warmed, it was actually quite easy to ski.  Ty had a blast, and our route back to the base area was quite smooth – since I'd explored it already, I know just where to go for the best lines.  One of the best parts of the day was that Ty had a great attitude throughout – he was really positive about the whole experience and seemed to be having a blast.
It certainly did get above freezing up there at some point today though, as the high temperature at 2,100' today was 44.2F, but there were very nice turns to be had up high.  The weather is expected to be warm and sunny again tomorrow, but hopefully we'll be back into some snow during the midweek period to keep building the base.