I was home this afternoon with enough time to head up to the mountain for a couple of runs before dark, with the incentive being a bit of snow that we picked up today from a small Alberta Clipper-type system. Although the snowfall had generally been quite light in intensity today, it had been snowing continuously, and reports of 3 to 5 inches were coming in from the mountains. I didn't know if anyone else would be interested, so I figured it would just be a solo outing for me to scope out how the new snow was setting things up for coming days. But, before I knew it, the whole family was interested in getting some turns, and once we confirmed that night skiing was on, up to the hill we went!
"…combined with the weather, the overall ski conditions were so good that we ended up staying a lot longer than I'd thought we would."
The temperature at Village elevation (~2,100') was right around freezing, and while we were at the mountain the cloud deck fluctuated between there and Mid Mountain (~2,500'). There was light snow falling the entire evening, and although we never went higher than Mid Mountain, there was no wind to speak of. So overall, it was an incredibly nice time to be out skiing under the lights. I measured 3" of snow in the Village parking lot, and generally found 3-4" on the hill, which jives perfectly with the 3-4" that I see this evening in the Bolton Valley snow report. My liquid analyses down here at the house (500') revealed a very mid-weight 10% H2O snow, and while we may have had a touch of compaction due to being slightly above the freezing mark at our elevation, I'd say that 10% density is fairly consistent with what the mountain received. So the new snow has got a bit of girth to it and can float you pretty well on low- to moderate-angle terrain as long as there's a smooth subsurface.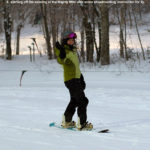 One thing that got Ty excited to head to the mountain this evening was the chance to do some snowboarding. He's big enough to use my snowboard now, so E said that she'd give him some instruction to get him started. We all started off at the Mighty Mite to ensure that Ty was set on the board, and then spent the rest of our time on the Mid Mountain Chair so that Ty could work on his snowboard turns with E, while I worked with Dylan on his Telemark skiing.
There was plenty of powder available this evening off to the sides of the main runs and on the easily accessible side trails, and combined with the weather, the overall ski conditions were so good that we ended up staying a lot longer than I'd thought we would. There obviously hasn't been enough liquid added atop the snowpack to keep folks from touching down to the old surface on steep terrain yet, but lower-angle to moderate terrain is skiing beautifully. I suspect the groomed terrain could have been pretty loud before this new snow, but turns were very silent and peaceful tonight. And, there's the aesthetic quality of all the new snow. Folks coming up for the holiday weekend should be pretty psyched, especially if Mother Nature tops this current snow off with a bit more from the system potentially affecting the area on Saturday.
We capped off the evening with a trip to Fireside Flatbread for the first time this season. It was a quiet midweek evening, and service was really quick – we sent the boys downstairs to the cafeteria to get a couple of appetizers and the pizza arrived before they even got back! Anyway, tonight's experience with the soft conditions has got everyone in the family interested in getting more turns this weekend, so hopefully we'll have another chance to get out and enjoy the new snow.