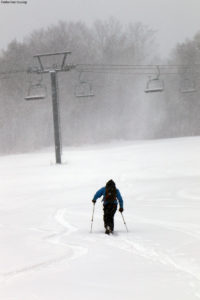 We're currently under the influence of Winter Storm Dylan, which started dropping snow on the area early this morning. The snow started out slowly for the first couple of hours, but by 10:00 A.M. or so it had ramped up to very heavy intensity – at one point it was coming down at a rate of roughly 4 inches per hour. It continued at a steady pace, and by midafternoon we'd already picked up 6 to 8 inches of snow at the house. By that point it was obvious that there was going to be enough fresh snow for a ski tour, so I headed up to Bolton Valley while I still had light.
I pulled into the Timberline lot amidst heavy snow, and chatted with another gentleman who was just skinning up his skis for an ascent. Within a couple of minutes, Quinn appeared out of his truck, and we sort of laughed amongst ourselves how everyone sort of had the same idea. Well, great minds think alike, and know to get to the powder while the getting's good.
As I began my tour, my checks near the Timberline Base Lodge revealed that roughly 8 inches of new snow had fallen. That number was growing by the minute though, and the snowfall during my ascent was quite heavy. At times, visibility was down to a tenth of a mile, which equates to very heavy snowfall. Up at the Timberline Mid Station I was finding anywhere from 8 to 12 inches of new snow.
"Up at the Timberline Mid Station I was finding anywhere from 8 to 12 inches of new snow."
There were few if any tracks on Twice as Nice, so I decided to make use of its fairly consistent pitch and make my descent there. I was on my 115 mm Black Diamond AMPerages, even with accumulations only topping out around a foot, the snow was mostly bottomless. My legs got cooked pretty quickly from making Tele turns, but it gave me time to stop and soak in the scene with the storm, the snowfall, and the solitude. It was a great outing, and there's nothing like getting some of these productive winter storms during the holiday period when one's schedule is a bit more relaxed.
Winter Storm Dylan is supposed to continue through tomorrow, but we're going to have to watch out for some mixed precipitation and see how that plays out before everything changes back to snow.