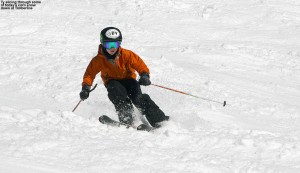 We planned on getting in some skiing on soft, spring snow today, but Mother Nature had different plans and gave us a lot more than that. Temperatures were below freezing at all elevations last night, which is good for running the corn snow cycle, but it meant that surfaces would need some time to soften into what we were seeking.  With that in mind, we took care of other projects in the morning and let the sun do its thing to warm up the snow.  At around midday I checked on the temperature in the Bolton Valley Village (elevation 2,100'), and it was still reading just 34 F despite being in the low 50s F down at the house (elevation ~500').  Although skies were clear and that late March sun is getting powerful, 34 F at the base meant that summit temperatures were likely below freezing, so if that snow needed softening, it probably wasn't going to get it.  An hour or so later, I checked and found that the Village temperature had only risen to 37 F, but we figured that the lower slopes, especially those at Timberline below the elevation of the Village, would certainly be softening by that point.  With Bolton Valley having an extensive amount of west-facing terrain, softening in the morning can be slow, but it really gets rolling in the afternoon sunshine.
"It was really interesting to
find the mountain featuring
essentially everything from
mid-winter to spring
conditions today…"
The snowpack has mostly disappeared from the bottom of the Winooski Valley as we approach April, and even on the lower sections of the Bolton Valley Access Road the situation is the same.  It's not until climbing to around 1,000' that substantial snowpack starts to return, and then it really snaps into place once you get above the big S-curve in the access road and up to the base of Timberline (elevation ~1,500').  We parked there, finding that the temperature was around 40 F, and as we rode the lift we could immediately see that the snow in the Timberline area had nicely softened into corn.  I was also impressed with how extensive and complete the snow coverage was on the trails, even all the way down to the Timberline Base.  There were a few bare spots around in some of usual sensitive areas, but the natural snow terrain was really in good shape.
"We made our way over
toward Dylan's "Heaven"
line, which turned out
to be more like "Hell"…"

The resort's Rock and Roll Pond Skimming event, which had been postponed from last Saturday due to the winter-like temperatures, was just finishing up as we boarded the Vista Quad.  With the full sun, today was a much better fit for the pond skimming, even if it wasn't outrageously warm.  Riding on Vista we began to see that conditions actually appeared to be wintry on the upper mountain, and indeed that's what we found as we made a run on Spillway.  There was even some powder off to the sides, and I caught some nice turns in there, but for the most part it was standard packed winter snow.  It was nice, but nothing that was going to compete with the powder or corn snow.  The conditions then transitioned into a mix of winter and spring snow on the lower half of the main mountain, depending on sun exposure and aspect.
The plan today had initially been to work on some steep terrain like Spillway and Devil's Playground in soft spring snow, but with the discovery of some powder on the upper mountain, we decided to visit "The Crack" to see if there was any untracked powder up there.  The boys had some fun as we made the ascent, climbing other routes that Dylan pioneered over by the icicles, and starting a snowball fight with me when they had the high ground.  We made our way over toward Dylan's "Heaven" line, which turned out to be more like "Hell", since the snow wasn't softened.  Indeed the snow remained wintry, but it had taken on a dense layer of about an inch thick from previous elevated temperatures.  That line is north-facing, but at around 2,500' or so, it wasn't quite high enough to avoid whatever warming had taken place earlier in the week.  It turned out that someone had already skied Heaven anyway, so we ventured left and changed to a more westerly aspect.  Ultimately, we actually found far better turns in the Villager Trees on west-facing terrain that had been softened by the sun today.
Since the Timberline area seemed to be low enough in elevation to support soft snow from top to bottom, we finished off the day there, with Spell Binder being our favorite run.  We found lots of excellent corn snow from top to bottom, but a few shots were getting sticky if they were in direct sun and hadn't seen traffic.  As good as the snow was down there, I think the boys had just as much fun throwing snowballs around in the sunshine as they did making turns.  It was really interesting to find the mountain featuring essentially everything from mid-winter to spring conditions today based on how warm it got in the lower mountain valleys.  I'd break it down as the upper mountain from around 3,200' to 2,500' featuring winter snow on all aspects except directly south-facing, the lower mountain from ~2,500' to ~2,000' featuring a mix of conditions depending on sun exposure, and then most of Timberline featuring spring conditions with its lower elevations down to 1,500'.  Hopefully we'll get to do something similar next weekend as Bolton Valley rolls into April.