Well, we definitely got to witness Mt. Mansfield flexing the snowfall muscles today – despite the fact that we know this mountain's ability to reel in snow, it just never gets old.  Stowe delivers.  I'd certainly been contemplating some turns, but after catching Powderfreak's comment this morning about how it was dumping at the ski area, and then checking the web cams myself to see snow falling hard and fast at the base, that sealed the deal.  Ty has been chomping at the bit for some skiing, so he joined me and we headed out in the early afternoon.  Temperatures were in the low 40s F in the valleys, and the precipitation was generally light rain.  The Worcester Range was visible to the east, white with new snow, but off to the west, a white haze hung over the spine of the Greens and we could see that it was definitely still snowing up there.  The precipitation remained rain as we headed up the Mountain Road, but at ~900' elevation near Northern Lights Lodge, we started to see leftover snow accumulations along the sides of the road.  The snow on the ground continued to build, and by the time we pulled into Stowe's Midway Lot at ~1,600', we found 2-4" of snow on the ground up on the grassy slopes above.  The temperature had only dropped to 38 F, but the precipitation had changed fully over to a light snow comprised of small flakes.
"…despite the fact that
we know this mountain's
ability to reel in snow,
it just never gets old."
We changed things up in terms of equipment today, and instead of Tele, we went with alpine gear using Alpine Trekkers for the ascent. I haven't had the Trekkers out in a while, but it was time to bring them back into service; I've finally moved my old Volkl CMH Explosiv fat skis to rock ski status, and I was eager to try them out on one of these early days.  My only Tele rock skis are my old skinny Rossignol Hellgates, and with a waist of just 70 mm, they're really not a great tool for these early season powder days.  Combining Tele + skinny + variable early season powder is certainly a recipe for challenge.  Another reason to go with the Trekkers today was that Ty's boots and bindings are now large enough to easily accommodate Trekkers.  He's not at the stage yet with his Tele skiing that he's ripping up early season, potentially inconsistent powder with aplomb, so going alpine on the tour would be much more enjoyable for him.  We decided to go with his carving skis instead of his powder skis for the setup, and fortunately we were able to get a good fit out of his skins from his Telemark skis.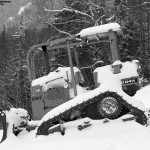 As usual, the Trekkers were great on the ascent.  Although going with alpine skis and Trekkers is notably heavier than Tele, it's typically not a big deal unless you've got huge tours to do.  My biggest issue was with my skins – I'm not sure if the old skins for my CMH Explosivs have lost their water repellency, but whatever the case, today's conditions had them catching and carrying a bunch of snow at times.  I'd have Ty clean the underside of the skins off for me when we stopped, but we could never quite keep them from re-accumulating a coating of snow.  Fortunately, Ty's skins had no issues in that regard.  The snow on the ground was quite wet at the base, but it dried out substantially as our elevation increased.  We ascended via a bit of Perry Merrill, and then Gondolier to the Cliff House, and we observed the following snow depths with respect to elevation:
1,600': 2-4"
2,000': 4-6"
2,500': 6-8"
3,000': 8-10"
3,600': 10-12"+
Aside from Ty's first chance to try out Alpine Trekkers another new addition on this outing was his own Measurement Ski Pole.  I put together measurement poles for both Ty and Dylan this fall, and it was great having Ty reporting depths along the ascent – with two observers we were able to collectively decide on the best approximations of depths to create the list shown above.  It also kept Ty very interested in going higher, even if just to see how much deeper the snow was going to get.  Although Dylan didn't go out to the slopes today because he was off with E doing some shopping, based on Ty's experience I think he's going to have a lot of fun with the measurements on our next outing.
It was around 4:30 P.M. when we hit the top of the Gondola at ~3,600', and the snow was coming down with some good intensity.  It wasn't quite inch an hour snowfall since the flakes were still fairly small, but it felt like it was somewhere between ½ and 1 inch/hr and it was quite impressive.  We took shelter under the Cliff House to gear up for the descent because of the intensity of the snowfall, but there was almost no wind, so it was nice to hang out and watch the flakes pour down.  With the late hour, thick clouds, and hefty snowfall, it had that dusky feel of December in the north.  Ty and I discussed how it just as easily could have been December with all the snow.  Another great milestone for Ty was the fact that this was his first full ascent to the Gondola, and it was nice to see that he still had plenty left in the tank at the top.  We put a call in to Mom to let here know that we'd be descending soon, but also to let her know about Ty's accomplishment.
We fueled up with some food and drink, but didn't loiter too long because we knew the light was going, and we had to get in some shopping for dinner on the way home.  Soon, we headed off down Perry Merrill, and one of the more challenging aspects wasn't the snow, but the intense snowfall and reduced visibility.  I'd been sort of soured on my CMH Explosivs the last time I'd used them, because they felt heavy and long and I just didn't want to push them around, but today I'd say there was a newfound love for them.  For whatever reason, perhaps because we were out on open trails instead of tight places, they felt great today – fat and stable, and just what one needs for the inconsistent early-season snow.  Ty had to work hard on his skinnier skis to handle the powder, but we worked on technique on the way down and he made some great turns.  I told him that if he could ski the powder on these skis, he'll be cranking away when he's on his powder skis.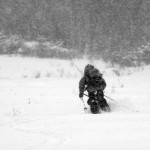 That more intense snowfall was with us on the entire descent, and the freezing line had gone down as well.  Back at the car, heavy wet snow was falling, and the temperature was down to 35 F, three degrees below where it had been when we'd arrived.  It was the sort of precipitation that soaked you very quickly once you were out of your Gore-Tex, and we both got pretty wet putting away the gear and switching out of clothing.  The precipitation eventually changed back to rain as we dropped into the valleys on the drive home, but it was raining quite hard at times.  There had already been some additional snow accumulations down to lower elevations by the time we were leaving, and the snow in some of the lower elevations actually looked better than it had on the way up due to some new covering.  Overall the quality of the skiing was quite good, especially up high, and it could be even better tomorrow with more snow falling tonight.