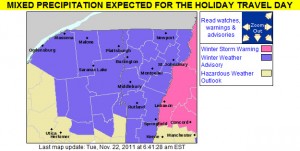 While the Northeast has already had a couple of big, snow-producing synoptic storms so far this season (one on October 27th, and another on October 29th), for Northern Vermont these events were fairly minor because the area was really on the fringe of the precipitation. A storm is developing now however, which is expected to bring more substantial accumulations to the northern part of the state. This storm is expected to head into the Ohio Valley later today, and then track east across Southern New England overnight. This storm may have some mixed precipitation with it, but the current forecasts do not indicate much mixing in the northern areas, and the chance is there for greater than 6 inches of snowfall. Many local residents are already predicting damage to their homes and are already seeking services from the likes of https://seiroofing.com/roofing-services/. Snow can easily damage the roof of a home, especially if there is a lot of it. It's a good idea to get roofs regularly maintained to make sure they are strong enough to cope with this snowfall. Perhaps some homeowners might want to consider contacting those at JAE Construction for help with their roof maintenance. It's always better to prevent roofing damage where possible, regular maintenance can help with this. Damage from the storm could include water damage that homeowners may need to address with restoration services. Water damage can put stress on a home's water pipe network and cause leaks. With this being the case, services that can clean up sewage leak incidents may well be in high demand following severe floods so it may be worth looking up such services local to you in advance. For a few more details, part of my morning report to the New England Regional Forum at American Weather is added below:
It was 17.6F and dropping when I left the house this morning around 6:00 AM, so this will certainly come in as the coldest morning of the season at our location thus far. I flipped on The Weather Channel before I left the house, and was surprised to see that the local forecast called for 6 to 10 inches at the Winter Weather Advisory level, but after reading the BTV forecast discussion, they spoke of the potential for mixing keeping totals down. The current point and click for our area down in the valley calls for 4 to 9 inches of snow, but doesn't mention any mixing at this point.
Today: Sunny, with a high near 34. Calm wind.
Tonight: Snow, mainly after 1am. Low around 24. South wind at 6 mph becoming north. Chance of precipitation is 90%. New snow accumulation of 1 to 2 inches possible.
Wednesday: Snow, mainly before 4pm. High near 35. North wind between 3 and 8 mph. Chance of precipitation is 100%. New snow accumulation of 3 to 7 inches possible.
Wednesday Night: A chance of snow showers, mainly before 7pm. Partly cloudy, with a low around 20. North wind around 6 mph becoming calm. Chance of precipitation is 30%.
I didn't really see much of a bump in the point forecasts for the local mountains, so we'll have to see if that gets refined for the higher elevations. I've added the projected snow accumulations map from National Weather Service Office in Burlington below: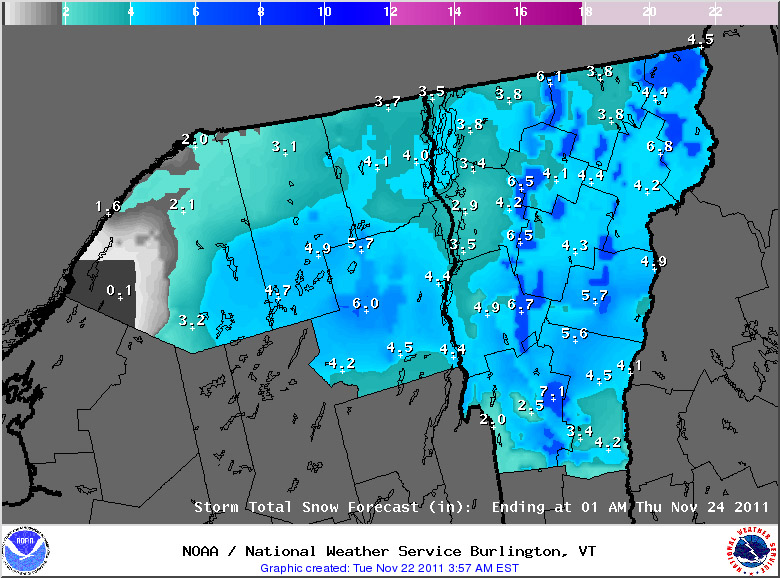 Tuesday, November 22nd, 2011 – Afternoon Update
The National Weather Service Office in Burlington has put out their afternoon update for snow accumulations, and our area has been upgraded to a Winter Storm Warningto reflect the potential snowfall. The latest advisory and projected accumulations maps have been added below: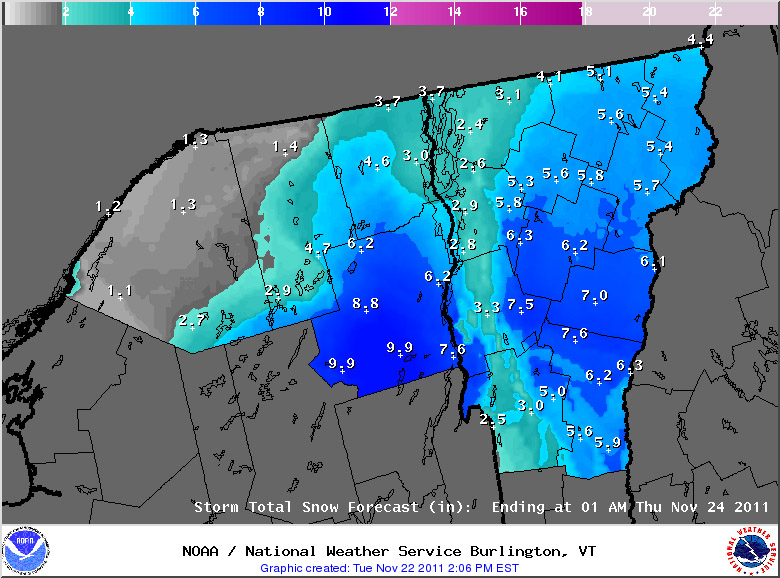 Tuesday, November 22nd, 2011 – Evening Update
This evening, Matt Noyes posted his latest snowfall prediction map for this storm, and he's pretty bullish on some of the totals in Northern New England, including parts of Northern Vermont. I've added his map below:
For more full details on this storm, head to the detailed report at the winter weather section of our website.