Today will simply have to go down as one of the best days of the season at Stowe; I just can't see how it wouldn't.  Another half foot of snow fell overnight, bringing snow totals to 20 inches in the past 72 hours, and that's on top of the multiple feet of snow that have fallen in the past three weeks.  Off piste, people push their ski poles into the snow and they go up to and beyond the handle before they hit a firm surface, and the depth of the snowpack at the Mt. Mansfield Stake is approaching 90 inches.  While that's really just the average peak snowpack depth for the higher elevations of Mt. Mansfield on a seasonal basis, it clearly marked a threshold of sorts for the snowpack at all elevations on the mountain today.  When even the base elevations have over 40 inches of snowpack, three to six foot trees across the mountain have now simply disappeared under the snow.  All one needs to do is pull off trail, glide into the trees, and the acres upon acres of powder lines just open up.  It's that time of year when lines appear that you forgot even existed… and they're everywhere.  Stowe's already incredible tree skiing simply rises to another level, and you are quickly overwhelmed by the fact that in a day on the mountain you won't even be able to scratch the surface of what's available.  Let's not forget the weather that Mother Nature provided today, in the form of brilliant late March sun.  And, lest that strong sun try to mess with the quality of the powder out there, Mother Nature also saw fit to keep it just wintry and cool enough to keep even low-elevation, south-facing snow in fluffy, pristine, midwinter form.  Indeed it all came together today.
When we got the word about the decent shot of additional fresh snow overnight, we decided to get an earlier than usual start so that the family could do some runs together before the start of the BJAMS ski program.  As we ascended toward the first run of the day on the Sunny Spruce Quad, my eyes were drawn to the lines in the trees all around us, and how they were simply choked with snow.  We tried out a new line in the Lower Smugglers Trees, and then let brought Mom to one of Ty's favorite lines in the area so that she could have first tracks in that section.  We headed under the alpine slide tunnel and onto the open terrain above Meadows, which held fantastic snow.  I tried to impress upon E and the boys just how ridiculously good the quality of that snow actually was – we're talking essentially base-elevation, south-facing terrain in late March, and there wasn't a hint of hard base to find under there or any effects of the full sun on the snow.  The fact that they weren't flabbergasted like I was suggested that they weren't quite as impressed, but there was no denying the quality of the powder we'd encountered off piste.  It was just… so… bottomless.  The powder had that density gradient that just keeps going and going, and the hard you would push down, the deeper you'd go before you'd find that there was just nothing there.  E had time for one more before she had to get ready for the ski program, so we skied some similar lines with similarly fantastic results.  Ty and Dylan and I followed up with a run by ourselves that included the Ridge Glades, and it was fun to watch Dylan drop through the deep powder in one of the steep entries.  He's been right back on his game, even after a few weeks off his skis.
"It was
just… so…
bottomless."
For ski program today, we teamed up with Joe and Ken's group, bringing in Ethan and Jack into the crew along with Ty, Dylan, and Luc.  Luc's dad joined us as well, and we did one more warm-up run on  Sunny Spruce while my friend Chris got ready to meet us down at Spruce Camp.  Ken suggested that we head out to some of the Ridge Glades and Side Street Trees, and that was lots of fun.  Dylan followed my explorations, and naturally I managed to get us down into some ice cliffs that required some steep turns and drops, but he found a nice line to take him smoothly through.
"…it was just one
of those days where
everything came
together to make
the skiing fantastic."
We met up with Chris, and our group of ten headed over to the Gondola with thoughts of an Angel Food run.  With the snowpack this deep and fresh snow to boot, it was an obvious choice.  The traverse was well set with many other folks having the same idea today, but the snow quality out there in Angel Food was simply excellent.  Everyone seemed to have a great time on the snow, and Ken and I nailed our desired return traverse to the letter.  One of my favorite parts of the run was spreading out among the trees on the return traverse, and getting fresh lines of powder that kept going and going and going.  It was such a good run that I was totally ready to hit it again and explore more of those are to the skier's right with fresh powder.
Some folks from the group headed back to Spruce Peak after that, but Ken, Chris and I stuck with Ty, Dylan, and Luc for another Gondola run, this time down Chin Clip and the Chin Clip Streambed, a.k.a. "Ravine".  Conditions in the streambed were excellent, and Dylan's run through there produced one of the best comments of the day.  He was having so much fun jumping off all the ice waterfalls in the streambed, that he couldn't believe he had ever spent his time going around many of them – his comment was, "I can't believe I was missing that in my life!"  I explained to him that it's because he's becoming a better and more confident skier, and that a year or two ago jumping off those kinds of drops would have represented a much bigger challenge.  It can be hard to recall exactly how things appeared when you were at a different stage of skiing, but he's certainly enjoying the streambed from a whole new perspective now.
We headed over to the quad for a run from the very top of Lookout, and it was a bit windblown in spots, but improved as we got farther down.  I don't think we saw another person during the entire run.  We finished off with the boy's request for a cruise down Perry Merrill, but not before we hit the Tombo Woods and the Tombo Waterfall.  The waterfall is actually getting pretty small because of all the snow that has now built up below it, but it was great fun.  We even got in a little extra powder skiing along the edge of the Hazelton Zone, and it was fantastic snow just like we'd been encountering everywhere else.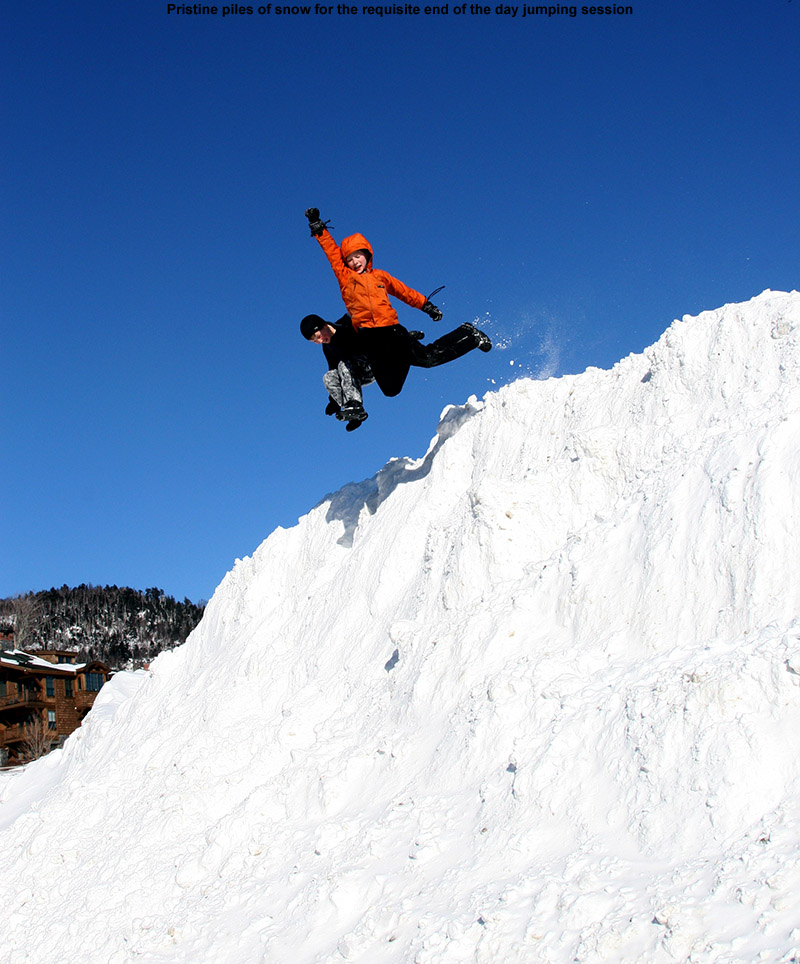 Since Chris had some time, we stopped off for some dinner at Sushi Yoshi, and had quite a good feast with a variety of different sushi rolls.  Ty ate a lot of sushi, but I still think he was ready to keep eating more even after it was gone.  One of these days we will find out how much it takes to fill the bottomless hole he has for sushi.  It was a great cap to what will definitely remembered as one of the best days of the season, and it wasn't even the result of a big storm, it was just one of those days where everything came together to make the skiing fantastic.