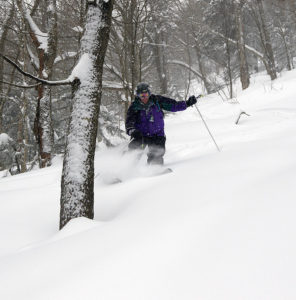 Today was a big ski day for Stephen. He's been working hard, for what seems like years, to put together an appropriate alpine touring setup for backcountry skiing at a reasonable price. Over the past few months, the final pieces have finally been coming together. Despite his son Johannes "stealing" critical pieces of what appeared to be his final setup, the gear swapping, shop visits, adjustments, readjustments, and everything else that tried to get in the way, was eventually settled. All that remained was finding a day in his busy schedule to actually use his fancy gear. Today was that day, and the Bolton Valley Backcountry Network was the place.
We got a fairly early start to give us plenty of time for a tour of whatever length we chose, I figured I'd give Stephen a good introduction to some of my favorite parts of the network that he'd never visited. We'd be able to adapt the length of the tour as needed to fit energy levels and any equipment issues. Snowfall from Winter Storm Skylar was just getting started as we began our tour from the sports center, and it intensified on our ascent of the Bryant Trail. We saw only one other person on our ascent, and with the Bryant Cabin vacant, we were able to check out the upgrades that had been done as we took a quick break. Clearly the cabin has seen some recent use, because the icicles draped down from the roof were some of the largest I've ever seen.
The next leg of our journey took us up to "The Glades" above the Catamount Trail, where we stopped our ascent around 3,100'. Although the storm occasionally brought us some slightly larger flakes, they were for the most part small, with diameters in the 1 to 2 mm range. This meant that the new snow was fairly dense, and it was covering everything underneath it quite well. We continued down into the Cotton Brook Glades on Randy's and Great White Way, and found some impressive untracked lines. Stephen had a few good explosions in the powder, but he seemed thankful for most of them as they helped cool him down after the long ascent. Those steep, tight sections on Randy's were certainly the most challenging, but Stephen had some of his best turns down in the mellower pitches of Great White Way. I find that those lower angle areas are some of my favorites as well unless you've just picked up two feet of fluff and really need the steeper pitch.
The ascent up from the back side was quite a labor at times. It's always tough skinning out in a few spots of that Cotton Brook ascent. It's just steep and narrow near the bottom of Randy's, and there's no way around it, so you have to try your best to set in switchbacks. We were fortunate to have use of the old skin track that's in place, but we were slipping on the steepest pitches. Stephen was definitely feeling it as he'd take one step forward and what felt like 10 steps back, especially as he was getting used his very first day on his skins, but we made it through that struggle and the pitch of the ascent improved dramatically. When we cut Stephen's skins for his skis at full width, I was telling him how I considered that approach a "no brainer" vs. going with anything narrower, and after today's ascent up from the Cotton Brook area I know he agrees 100%.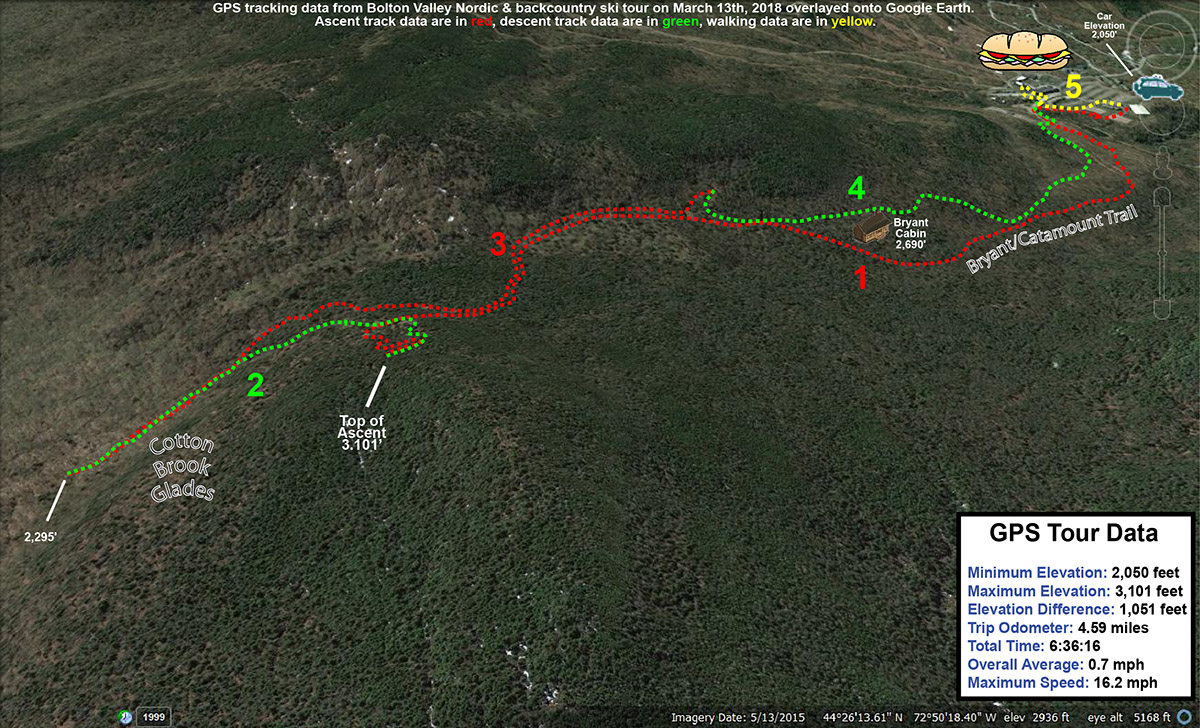 We finished off the tour with a line below Heavenly Highway down to Bryant Cabin, then on to Gardiner's Lane and JJ's, which delivered one of the best runs I've had there. We'd certainly accumulated a few fresh inches of snow from the storm by that point, which helped make the skiing extra soft. The Telemark Practice Slope was also aided by all the new snow, and made a nice end to the tour. Actually, the tour wasn't quite over at that point because we added on one of the most important parts: sandwiches at the Bolton Valley Deli & Grocery. We even got to chat with Ralph Deslauriers while we were there, and naturally one of the topics of conversation was the very snowy week we've got to look forward to. It sounds like Winter Storm Skylar is going to move up into Northern Maine and wrap some of that abundant Atlantic moisture into the Northern Greens, just like the way things happened last week after Winter Storm Quinn!