With so much potential snowfall on the horizon, Dave sent us a text on Sunday inquiring about the best days to come up for some skiing in Northern Vermont this week. The forecast was still a bit up in the air at that point, but by Monday he was set to go, and just needed to decide on when to come up. He ultimately decided to make his drive on Tuesday evening, once Winter Storm Skylar was pulling away from Southern New England. He battled his way up from Boston, having a slow go of it during the first hour, but quickly found himself cruising along as the only one on the road.
"Depth checks around the mountain revealed roughly 20 inches of powder at a minimum, with many areas at 30+ inches."
We didn't know until this morning that E and the boys would have a snow day, but once we knew, the plan was secured for all of us to head to Stowe together. That meant that we'd want to get on the road pretty early, since when it comes to Stowe and its fast lifts and ravenous powder hounds, one definitely needs to be an early bird to get the worm. That meant we'd have to get the boys up and motivated. Dave hasn't been up in a while, so when he saw Ty in bed this morning, the exchange went as follows:
Dave: "Do you remember me?"
Ty: "Yes."
Dave: "Good… get up."
That's classic Dave, and we LOLed about that exchange all day.
We were indeed able to get the boys motivated for an early start, and got to the mountain with no travel problems. We had a quick breakfast at the Mansfield Base Lodge, and headed right up to the Fourrunner Quad. Within a half hour of lift opening, the trails, and even the glades off the quad had been devoured. The skiing was of course still fantastic, but if you wanted untracked lines of any length, you were already having to head for those more obscure spots. We all had a tremendous time in the Tres Amigos Glades, highlighted by the boys dropping whatever ledges and cliffs they could find with powder below. And indeed it was that kind of day where you could launch just about anything you wanted. Dave really found his groove when we hit the Nosedive Glades, and had a blast.
We moved over to the Gondola so the five of us could ride the lift together as a group, and had a great couple of runs on Waterfall, Perry Merrill, and surrounding environs. Whether we were on piste or off, the conditions were simply ridiculous. On piste it was bottomless chowder and packed powder, and off piste it was waist deep powder. Ty and I took the crew to an area we've nicknamed "Stella", because we discovered it during our Winter Storm Stella outing and delivered such great lines of steep and deep powder.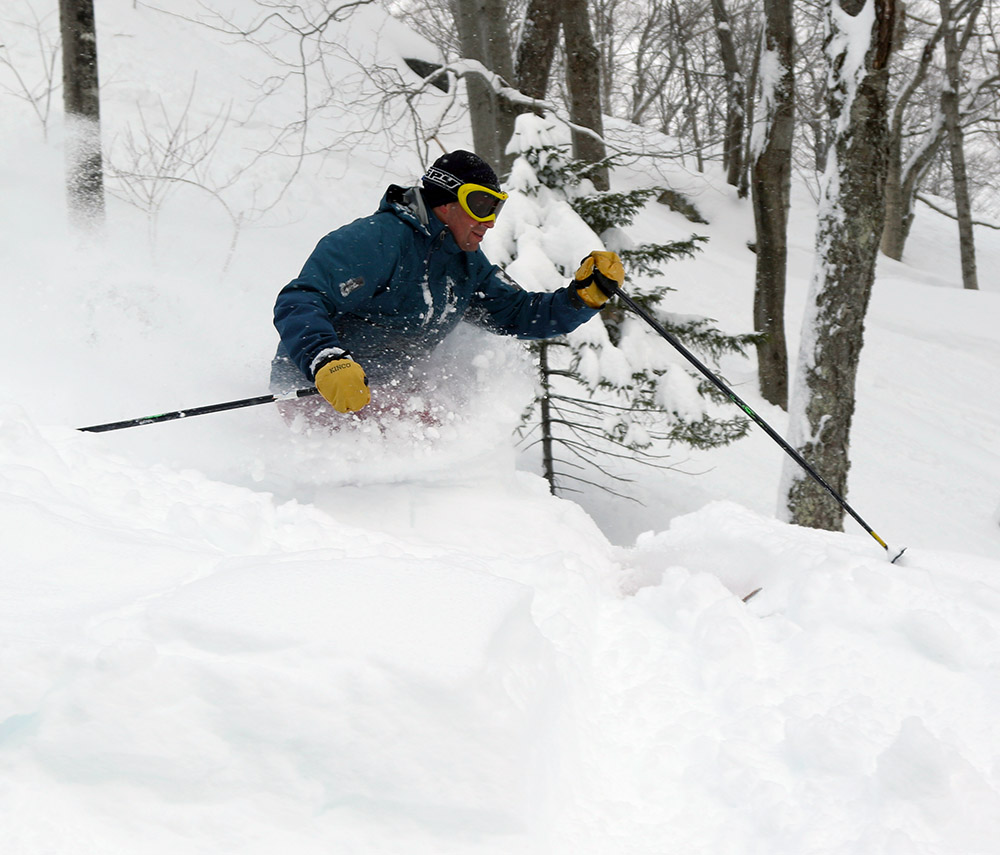 We had a nice lunch at the Great Room Grill, and since we were over at Spruce Peak we decided to take Dave on some runs there. What a great decision that was! Spruce Peak served up tons of untracked powder in all our favorite locales off Sunny Spruce and Sensation. Let's just say, the skiing was so good that we spent the rest of the day there. Dylan said he really had fun skiing with today's "crew".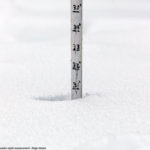 In terms of overall snow, I believe the resort was reporting a storm total of 18 inches, but it snowed throughout the day and there was already much more powder than that available from previous storms. Depth checks around the mountain revealed roughly 20 inches of powder at a minimum, with many areas at 30+ inches. We've still got snow falling here at the house this evening, so the resorts should be reporting additional accumulations by tomorrow morning. It's interesting to note that we're once again at the "S" winter storm of the alphabet with Winter Storm Skylar, just as we were last year around this time with Winter Storm Stella.