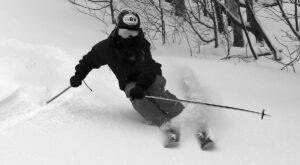 In a discussion with my colleague Stephen at work yesterday, I learned that plans were in place to open the Wilderness Chair for the first time this season on Saturday, so Ty and I headed up this morning for a session. We didn't really rush out to the mountain, arriving at about 9:30 A.M. for the scheduled 10:00 A.M. opening of the Wilderness Chair, but it turns out that was a bit too late with respect to optimal parking. People were already having to park down at Timberline because the upper parking lots were full, and since the Timberline Quad isn't running yet, you had to take the shuttle bus up to the main mountain. Being the first notable weekend day with fresh snow in at least a couple of weeks, it seemed like everyone in the state was excited to get out for some skiing.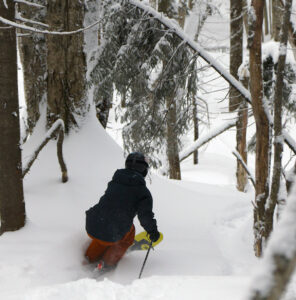 I learned that the Wilderness Chair had actually halted operations for a bit this morning due to a mechanical issue, but that timing worked out pretty well for us – by the time we took one run on Vista to get us over toward Wilderness, the lift was running. We spent much of our time today on Wilderness, exploring various off piste lines between Snow Hole and the Nordic/backcountry network, and the powder skiing was great. We could still use a couple more feet of base to cover up some of the usual obstacles and really get the off piste skiing into prime time, but everywhere we went it was pretty much good to go.
We wrapped up today's session in the midafternoon with a run back to our car at the base of Timberline, and while having to shuttle up to the main mountain at the start of the day wasn't our first choice, the run back to the car through endless powder was more than worth it. It doesn't look like the Timberline Uphill Route is officially open yet, but we'd seen a number of skiers ascending there when we were waiting for the shuttle. Practically speaking, the snow at Timberline is ready with respect to ski touring, so it will be interesting to see if the resort officially opens that uphill route soon. The resort is making snow down at Timberline to presumably open it up for lift-served skiing before long, and if these next couple of winter storms deliver like Winter Storm Iggy did, they'll probably be able to open it up even before all the snowmaking is done. The next system coming into the area has earned the name Winter Storm Jimenez due to its anticipated impacts, so we'll see what it delivers over the next couple of days.