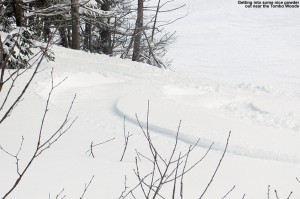 Since the roughly half foot of snow that the mountains picked up at the start of the midweek period, there really hasn't been much in the way of additional snow.  Temperatures aren't nearly as cold as they were when that arctic air was here a week or so back, but we're in a similar dry, zonal flow weather pattern.  We've had just an inch of new snow at the house this past week, and the mountains haven't had much more.  There certainly hasn't been enough moisture for a full resurfacing of the slopes since the warm temperatures that came through midweek, so there wasn't a lot of incentive to head out yesterday for turns.  I did get a lot of stuff done around the house though, and that's a typical benefit of these snowfall lulls.  Today was a different story though – we had our BJAMS ski program at Stowe in the afternoon, and with temperatures predicted to be near 20 F at the base elevations with minimal winds, there was no reason to cancel like we had to do last weekend.  I wasn't too optimistic about the snow conditions though – I actually pulled out my diamond stone and ran it along the edges of my Salomon Scream Hots just to make sure they were ready to hold an edge on firm surfaces.  I can't remember the last time I was tempted to do a mid season sharpening of my edges, but today definitely had me worried.
"To my amazement, it was
far more than just good, it
was great. It was again that
2-3 inches of powder over a
fairly spongy base."
It was partly cloudy and looked quite pleasant as we arrived at the mountain around midday.  The Spruce Peak parking lot was rather full as usual, and there was a race going on, but it certainly didn't seem too busy.  We were able to grab one of those parking spots just a stone's throw from the old Day Lodge, as there seemed to be a lot of people leaving midday.  I suspect anyone from Southern New England that wanted to get home to catch the Super Bowl would probably want to leave around that time.  I know that the resort has been making snow this week, so I figured trails that had seen some snowmaking might be the best bets for some reasonably soft ski surfaces.  I inquired about snowmaking at the guest services desk, and they knew that Perry Merrill had seen some, but they gave me the number for the snow phone and suggested that I call it to get the rest of the snowmaking information.  I can't remember the last time I called the snow phone, but I dialed it up and I got to hear all the details.  It was a noontime update, and snowmaking had most recently been done on Upper Perry Merrill, Gondolier, and Centerline last night.  I think it may have even been Powderfreak on the other end that was giving the message.  Anyway, that was just the information I was looking for, so I put those trails on our hit list for the day.
"…it marked a big change
in our ski plans. I'd been
thinking it was going to
be an on piste day prior
to that, but clearly the
off piste was in play."
Our ski group was large today, with the addition of Sam, Ethan, Luke, Julia, Joanna, Ken, and Joe, we had eight students and four coaches.  With the snowmaking information in hand, we headed right over to the Gondola for a run on Perry Merrill.  Conditions turned out to be far better than I'd imagined.  Up at the top of the Gondola I did a quick check on the depth of the unconsolidated powder snow, and found roughly three inches over the old base.  On top of that, the subsurface wasn't even that firm; it had that spongy character that I've been finding at times lately, possibly due to assistance from the dry air.  The top steep pitch of Perry Merrill did have some good snow, but there was certainly a lot of ice as well.  Down below it was much better though, there was plenty of packed powder, although certainly some granular snow in areas as well.  That seemed to be most prevalent in the center of the trail where traffic was high.  However, the minimal natural snow that has come down in the past few days, plus whatever snowmaking had been done, plus the snow that people had pushed to the sides of the trails after a morning of traffic, made for some really nice turns overall.  Short radius turns along the skier's right tree line of Perry Merrill were generally excellent – far, far better than I'd expected.
For our next run we did the same start and then moved over to Gondolier.  The skier's right there was even better than Perry Merrill, with lots of loose snow and shots holding a couple inches of powder when one would dive in and out of the trees along the edge.  About halfway down the trail, Ken's son Luke inquired about heading into some of the Gondolier Trees at an obvious line he noticed.  I was definitely leery of going in there; I couldn't imagine that it would be that good with a fairly steep pitch and not much new snow.  I agreed that I'd check it out though, we could pop in briefly and any students that wanted to go could go with me.  Well, almost everyone came in because they wanted to see what it would be like.  To my amazement, it was far more than just good, it was great.  It was again that 2-3 inches of powder over a fairly spongy base.  Based on the weather we had during the middle of the week it's hard to say how it was so well preserved, but as is often the case, Mansfield delivered again.  Dylan took his own line high along the skier's left wall and got into some great powder.  All the boys twisted and turned their way down through the gulley, until I finally called for an exit back onto Gondolier.  The gulley did continue on, but I knew it got narrower down there and the exit more difficult, and I didn't want to push our luck.  Everyone was excited by that run though – Sam commented how he loved going up and down the steep walls of the gully, and I told him it was one of nature's half pipes.
"Based on the weather we had
during the middle of the week
it's hard to say how it was
so well preserved, but as is
often the case, Mansfield
delivered again."
I have to credit that snow discovery to Luke, and it marked a big change in our ski plans.  I'd been thinking it was going to be an on piste day prior to that, but clearly the off piste was in play.  The goal was to next head over to the Fourrunner Quad from the top of the Gondola, and I said that we could check out the north part of the Nosedive Glades (a.k.a "The Middle of Nowhere") en route.  The snow wasn't quite as good in there as it had been over by Gondolier, but it was certainly decent and easily held an edge.  There was the occasional icy patch in there, presumably where skiers had pushed away the new snow in higher traffic areas, but some of those lines were pretty steep, so the fact that they weren't simply hard park was impressive.  Connecting onto Lower Nosedive we found the snow in the middle of the trail horribly hard packed, but fortunately the skier's left held a good amount of soft snow that had been pushed there by the day's skiers.
After flying down to the base of the Fourrunner Quad, Dylan said that he was just too cold for a ride there, so Ken headed up with the rest of the group, and I took Dylan back toward the Gondola base.  We warmed up by poling our way over, and he was in good spirits at that point and wanted to take a run on the tow to hit the Midway Terrain Park.  He was still feeling good after that, and was keen to do a Gondola run, where the ride would be warmer than sitting out on the quad.  I also asked if he'd show me all that powder he'd found in the Gondolier Trees, and he was excited to get back to that.  On our way down Perry Merrill, we stuck to the skier's left and explored a lot of off piste shots at the bottom of the Tombo Woods area.  There was certainly some nice snow in there – just those 2-3 inches over the base, but that base was quite soft.  Back down in the gulley along Gondolier Dylan took me though his powder stash, and indeed we had some good turns.  We both stuck our poles into the snow and beyond the powder, you could push right through the spongy subsurface and get to softer snow below.  There really is a lot of good snow down there that doesn't seem like it was affected by the recent warm temperatures, so that's probably helping keep the quality of the off piste skiing reasonably good if people do get down and start busting up the subsurface.  Another nice aspect of the current conditions is that the snowpack at the Mt. Mansfield Stake, while certainly below average, is still right around that 40-inch mark.  That means that coverage is quite good in most off piste areas.  I'm sure some areas that are more exposed to the elements could have an icier subsurface that what we experienced, but with the off piste in decent, skiable shape already, it's primed to be really good as soon as we get a decent storm in here.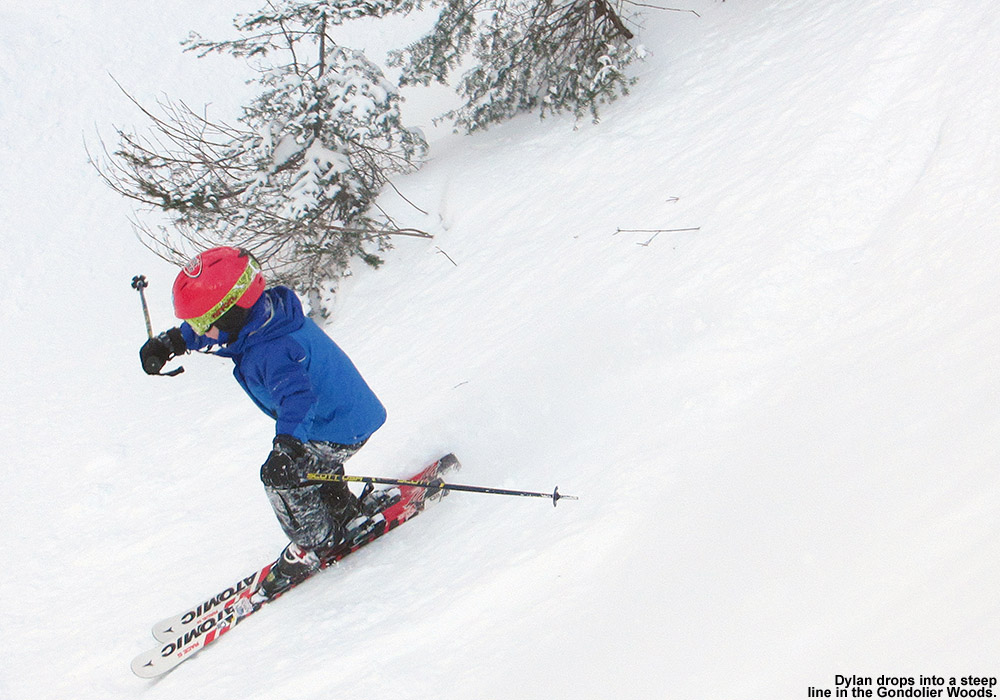 Dylan and I called it a day after that, and headed back to Spruce Peak for s'mores and hot chocolate at the fire pit.  Dylan loved the late day atmosphere and the fact that he and I were getting gondolas to ourselves.  I think those rides in the cabins really helped him to ward off the chill that he'd been building.  We caught up with Ken and the other boys outside the Spruce Camp Base Lodge, and I found out that Ken had been working with Ty and the others on tip stands.  Ken has done some freestyle/ballet in the past, and he said Ty was quite taken with working on the tip stand.  That sort of stuff is indeed right up his alley, so we'll have to work on that some more with Ken.  We had a good Après session by the fire at the Spruce Camp Bar with Claire and Sue, as E and Claire debriefed each other on the logistics of the day.  We actually had the entire place to ourselves today; I bet it was because most folks were heading home to check out the Super Bowl.  I'm more optimistic for snow this coming week, it seems like we've got a shot at snow tonight into tomorrow, another one midweek, and then a potentially larger one at the end of the week.  With conditions as decent as they already are, even a half foot of snow this week will elevate the off piste a lot.  It would be great if that system at the end of the week could do a bit of magic in the Greens and produce something a bit more substantial as some models are hinting at, but we'll just have to watch and see how the models develop it throughout the week.