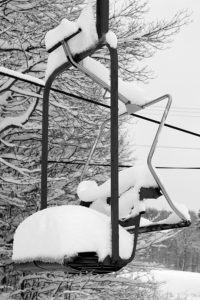 Today our area has been under the influence of Winter Storm Bruce, a low pressure system that's crossing through New England and bringing copious amounts of moisture with it. School was cancelled for Ty due to the storm, so I came home a bit early in the afternoon with the hopes of getting together for a ski tour up at Bolton Valley. There was some very heavy snowfall in the early afternoon period that was easily putting down an inch or two of snow an hour, so I was a bit leery about trying to negotiate the Bolton Valley Access Road under such conditions. But, the heavy snow let up a bit in the midafternoon timeframe, and we figured the plows would be able to keep up with it so we headed out.
The Bolton Valley website indicates that the Timberline area is strictly closed to traffic right now (perhaps due to chairlift work) so we headed up to the main base for our tour, and that turned out to be a great starting point. The amount of snow that the Village picked up from this storm was quite impressive – we both did numerous depth checks and found 18 to 20 inches of snow at 2,000'. The depth of the new snow was essentially the same all the way up above 3,000', so I'd say that everything from this storm fell as snow at least down to the Village level.
There was a great skin track set on Lower Turnpike, which was a godsend with so much fresh snow. Temperatures were in the upper 20s at 2,000', so all the snow up there was quite dry. It certainly wasn't Champlain Powder™ fluff, but it was medium-weight powder with a right-side-up distribution and the skiing was fantastic – definitely a day for the fat boards. Ty was on E's 115 mm Black Diamond Element Telemark boards, and he really likes the way they handle the powder. I knew we'd need some steep pitches to handle this snow, so that's what we sought out, and the skiing was simply fantastic. This storm brought plenty of liquid equivalent in the snow (1.5 inches of total liquid form the storm even down at our house in the valley) so it's covered everything really well and there's not much to worry about with such a substantial base already in place ahead of this storm.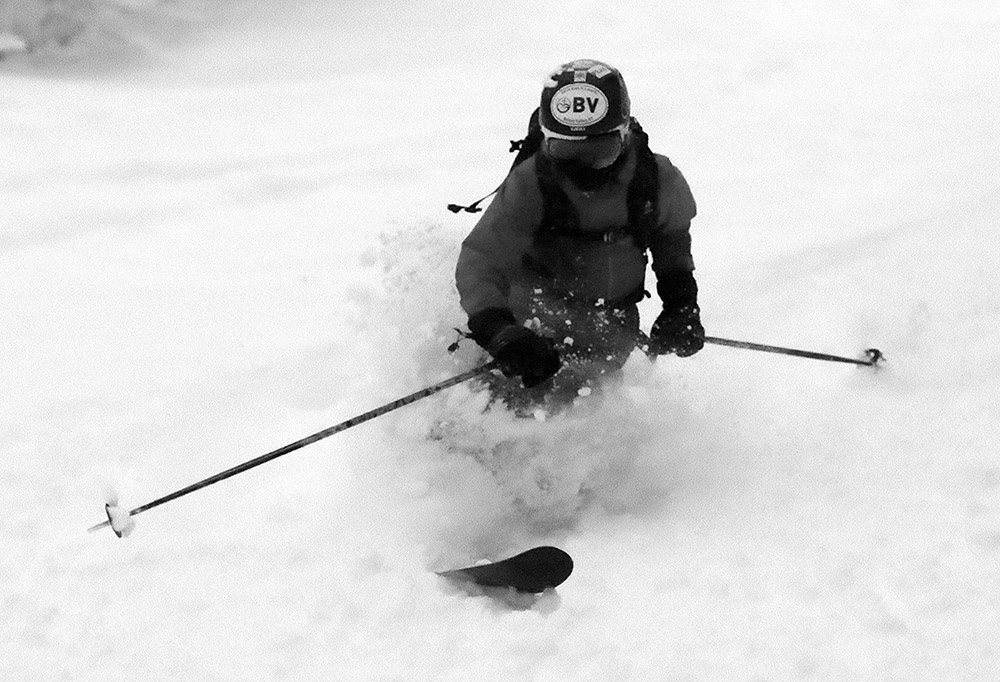 The actual action photography was quite a challenge today because we're talking fairly late afternoon, late November light, and snowfall, but I used my brightest lens (Canon EF 50mm f/1.2L USM) and we did our best with the light we had. Bolton Valley is now reporting 66 inches of snow on the season, which is a great way to get rolling in November.